Indore Tourism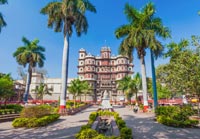 The largest city in Madhya Pradesh, Indore is renowned for its cultural heritage and commercial boom. The city is often termed as the 'Commercial Capital' of Madhya Pradesh due to various multinationals mushrooming here. No matter whether you are a nature lover or an admirer of architecture ? Indore will never disappoint you. The food diversity seen in Indore is also remarkable which has earned it the title of the food city as well.
Places to Visit in Indore:
Central Museum
One of the most visited attractions in the city, Central Museum houses a range of collections dating back to 5000 BC. The museum features two galleries. While one exhibits artifacts from the prehistoric period, the other one shows carvings depicting Hindu mythology. Some of the most eye catching attractions of the museum include an 8 meters Ganapati statue which is world's biggest statue of Lord Ganapati. The museum lures many having a passion for the history of India.
Lal Baag Palace
This is the most beautiful palace of Indore. Its construction started in 1886 and was completed in the year 1921. The palace has a beautiful European style of architecture and perfectly blends numerous other styles too. The most astonishing fact about the palace is that its gates were cast in England and are replicas of the gates of the Buckingham Palace. Here you get a chance to spot numerous paintings and sculptures of the bygone era which tells you about the history of this place.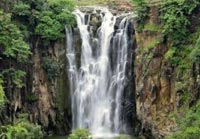 Patal Pani Waterfalls
For a serene escape, the Patal Pani Waterfalls, situated 36 kms away from Indore, are great choice. Cascading from a height of 200 to 300 feet, the waterfalls are nestling with dense forests which make it an ideal location to enjoy picnic. Numerous trekking enthusiasts come here to enjoy trekking which leads them to this majestic location.
Pipliyapala Regional Park
If you are a nature lover, Pipliyapala Regional Park is an ideal pick for you. These splendid bio-diversity gardens are made in Mughal style and have been adorned with a wide range of fountains. Many theatrical activities are conducted here every now and then which remain a must see. Boating facilities are also available and bestow great fun to family vacationers.
Rajwada Palace
Rajwada Palace is a beautiful exemplar of architectural splendour of the bygone era. It was raised by the Holkars of Maratha Empire and presents an unseen mix of Mughal, French and Maratha styles of architecture. The palace is seven storied and features two parts with first part in the city's centre and the other one in the old town.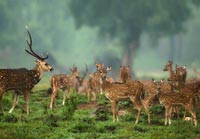 Ralamandal Wildlife Sanctuary
Ralamandal Wildlife Sanctuary lures travellers with its wide variety of flora and fauna. The sanctuary was built in 1989 and offers stunning views of valleys and hills around it. Enjoy a trekking to reach the sanctuary or drive to reach here. Some of the commonly spotted animals here include sambar, leopard, barking deer and black buck.
Gomatgiri
A small hillock, Gomatgiri is a popular pilgrim centre for the devotees of Jainism who can be seen offering prayers in the 24 marble temples dotted here. The 21 feet Gomateshwar statue situated here is a replica of Bahubali statue in Shravanabelagola. The ambience of Gomatgiri is extremely serene and is good enough to get lost into meditation.
How to reach:
By Air: Indore Airport receives regular flights from other major cities of the country
By Train: Indore Junction Bg (INDB), Indore Junction Mg (INDM), Lokmanya Nagar (LKMN), Fatehabad Chowk Junction (FTD), Rajendra Nagar (RJQ) and Lakshmibai Nagar (LMNR) are the railway junctions in Indore
By Road: Indore is connected to other major cities of India via regular buses