Agartala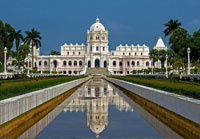 The capital of the Indian state of Tripura, Agartala is the second largest city in North-east India. This cultural hub has everything from recreation to adventure and culture. Agartala is not just known for its flourishing valleys. The cultures sprawling here are awe-inspiring, making everyone fall in love with it. The city is blanketed with flourishing forest cover and offers a serene escape in the lap of nature.
Ujjayanta Palace remains the most popular historical wonder of the city. It was built in 1901 and features tiled floors, curved wooden ceilings and beautiful doors. It was initially a royal palace of the Tripura but now it has been transformed into a museum nestling with lush greenery of Mughal gardens. 'The Lake Palace of Tripura', Neermahal looks jaw dropping with its unmatched architectural exquisiteness. Its glorious past and heritage is showcased in the light and sound show conduced here. The Tripura Government State Museum is also a great lure for history buffs. The museum was established in the year 1970 and houses numerous artefacts recovered from excavation sites. The museum showcases archaeology, Indian sculpture and tribal culture through coins, sculptures, terracotta, copper inscriptions, paintings etc.
For wildlife lovers, the Sepahijala Wildlife Sanctuary of Agartala is a must visit. The Park is home to over 150 species of residential birds and migratory birds. Also, explore orchid garden, boating facilities, botanical garden, elephant joy-rides, and much more here.
Spend some time amidst ample of nature at Jampui hills enjoying its pleasant weather that lasts all year long.? Here you can delve into plantations of tea, orchids and orange.
How to Reach
By Air: Singerbhil Airport is well linked with all other major cities of the country.
By Rail: Agartala is well connected via regular trains to all parts of India.
By Road: Instead of Agartala, travellers can get a bus to Kanhmun on regular basis.