Kanyakumari Tour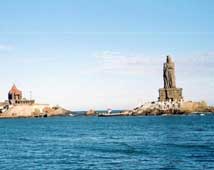 Surrounded by Majestic Hills and the plains bordered by colourful sea-shores, fringed with coconut trees and paddy fields, here and there are few elevated patches of red cliffs with undulating valleys and plains between the mountainous terrain and the sea - coast, so closely interwoven with Temples and Churches and other edifices lies the district, 'Kanyakumari'.
With an area of 1672 sq.km. it occupies 1.29% of the total extent of Tamil Nadu.
Described as the southernmost end of Tamil Nadu, the land end of India or the point where theland's three seas meet, enchanting Kanniyakumari or Cape Comorin is one of the most popular tourist spots in the state and indeed, in the country.
Part of the fascination is of course due to the fact that it is the very tip of the Indian peninsula and the confluence of the Bay of Bengal, the Arabian Sea and the Indian Ocean.
The other part is that the nature is so spectacular at Kanniyakumari, that several other Indian beaches pale by comparison.
Cape Comorin is at its best during Chitra Pournami(full moon day in April) when the sun and moon are face to face at the same horizon but other full moon days are also special when you can see the sun set and the moon rise almost simultaneously, as if by prior arrangement.