Shillong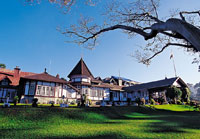 Shillong, the capital of Meghalaya, is drenched into an ancient colonial charm. Its natural beauty is so charming that it is fondly called as the Scotland of the East. Visit here and you will be surprised to see cobblestone streets and old churches taking you into the history of the place. It is perhaps the most popular destination in the North East where travellers disconnect with the outside world and connect themselves with the tranquillity sprinkled here. It is a paradise for honeymooners too.
Shillong Peak
An unbeatable place for the worshipers of Mother Nature, Shillong Peak is the highest point in Shillong. Visit here and get lost in its lush greenery and cascading waterfalls. Come here on a clear sky day and explore the region around from the top. Catch the sights of majestic Himalayan peaks as well as of the Bangladesh plains.
Don Bosco Centre for Indigenous Culture
Explore the local cultures more closely by visiting the Don Bosco Centre for Indigenous Culture. This is a museum that takes you back into the history and culture of the tribes. The seven storied building exhibits the tribal world through art, musical instruments and ancient tools. Adventure souls must enjoy the skywalk at the top of the building.
Laitlum Canyons
Laitlum Canyons is a sheer paradise hugged by the Khasi Hills. From here you can capture panoramic views of the hills and valleys. This is a great puller for trekkers who trek to this place to relish rewarding views of nature.
Elephant Falls
Elephant Falls, the Three Steps Waterfalls, derived its name from a nearby stone resembling an elephant. During the rainy season, the waterfalls here fall in full vigour and look beautiful. It has become a popular picnic spot today where travellers flock to enjoy its breathtaking environs. Numerous photographers can be seen around the waterfall who can give you an instant picture of yours with the backdrop of these waterfalls.
Mawjymbuin Caves
These caves remain a must visit in Shillong. The natural caves are on the world's wettest place, Mawsynram. The stalagmites in the caves are impressive, including a huge stalagmite in the shape of Shiva Linga. The unique construction of this cave lures many geologists for research purpose. Do not miss capturing this unique form of nature in your camera lens.
Umiam Lake
Nestling with flourishing coniferous forests and East Khasi hills, Umiam Lake is one of the most beautiful places to visit here. Also known as Badapani, this is an extensive man-made water body, made by damming Umiam River. The lake has few tiny islands. Visitors can also enjoy picnic in the adjoining Lum Nehru Park.
How to Reach Shillong
By Air: Shillong doesn?t have an airport and the nearest one is the Umroi Airport located at a distance of 25 kilometres.
By Road: The closest railway station from Shillong is about 100 kilometres away in Guwahati.
By Road: Bus services are easily available from Guwahati to Shillong.