Chennai City Tour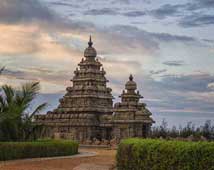 Chennai the gracious capital city of Tamil Nadu is the fourth largest metropolis in India. Located on a 17km stretch of the Coramandel coast, the city is trisected by the waterways of Cooum and Adyar and the Buckingham Canal.
With a population of 6 million people, Chennai is a vibrant city ever growing, expanding and changing every year. Popularly regarded as the "Gateway to the South", Chennai presents culture that is distinctly different from that of northern India.
Music, dance and all other art forms of the South are cherished and nurtured in this city which, though industrialized, continues to be traditional and conventional in many ways.
The region of Chennai was called Tondaimandalm in those days and had its military headquarters at Puzhal, which is now a small and rather insignificant village on the outskirts of the city.
Modern Chennai grew out of a small village when in 1639 a fishing hamlet called Madraspatnam was selected by early English merchants of the East India Company as a site for the settlement.
Chennai is a gracious city that has a clear skyline, long sandy beaches, parks, historic landmarks and tourist infrastructural facilities which make it a convenient entry point or base to start your tour of Tamil Nadu and South India.
Where religion is concerned, history has certainly left its mark on this city which is believed to have been the place of St. Thomas, in the outskirt of the city.
There are a number of churches in Chennai that are connected with the life and times of this apostle. There are also several ancient temples around Chennai, and, within the city itself are two magnificent temples - a temple in Triplicane and another in Mylapore.