Kalimpong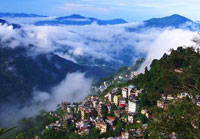 Kalimpong is a tiny hill station in the northern part of Darjeeling in West Bengal state. The town looks like a paradise with some of the most amazing mountains, splendid gardens and pristine lakes. Nature lovers visit here to spend some moments of peace while enjoying some unseen vistas of nature. Views of Himalayan valleys, Buddhist monasteries and colonial-era architecture are common yet fascinating here.
Durpin Dara hill
Durpin Dara hill is an ideal place to enjoy bird's eye view of the town of Kalimpong. Reach the top and you will be awe-struck by the stunning looking snow-clad Himalayan ranges and the Teesta River from here.? Durpin Dara Hill also houses a golf course and the Zang Dhok Palri Monastery. For some serene moments amidst breathtaking flora, visit the botanical garden here.
Cactus Nursery
The nursery is home to some of the rarest varieties of cactus plants and orchids. The nursery is nestling with a thick network of trees and hills. Travellers visiting here often get amazed by the vast collection of plants and trees here some of which are exotic ones. What make it even more beautiful are its surrounding views of hills.
Deolo Hill
This is the highest point of the town situated at a height of around 1700 m. The hills have three reservoirs of fresh water which provide water to the town. Deolo Hills offer stunning panoramas of surrounding valleys, rivers and villages. The most popular place here is the recreational park. Adventurous souls can partake in activities like paragliding, horse riding and trekking ere.
Dr. Graham?s home
Dr. Graham's home is on lower steep of Deolo Hills. This is a popular centre of education which was raised in the 1900s by Sir Anderson Graham of England. It spreads over an area of 550 acres and offers numerous vocational courses in farming, baking, dairy management, clothing, medication, etc. The place gives you an insight of the educational background of this stunning town and remains a must visit.
Zong Dog Palri
Zong Dog Palri is a Buddhist monastery belonging to the bygone era. It was constructed under the guidance of Dalai Lama in 1975 on the Durpin Hill. Today it holds great importance among the followers of Buddhism. The architecture, sculptured walls, pillars and ancient paintings displayed here are worth exploring.?
How to Reach Kalimpong
By Air: Kalimpong does not have its own airport and the nearest airport is Bagdogra airport in Siliguri.
By Road: The closest railway station is New Jalpaiguri, 72 km from the main town.
By Road: Regular bus services are available to Kalimpong from cities like Gangtok and Siliguri.