Mysore City Tour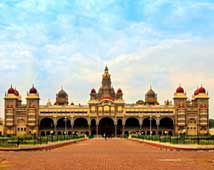 Mysore is more than palaces, parks and temples … the exotic fragrance of Mysore Jasmine… the melodious strains of the Veena… the rich aroma of filter coffee… traditional carvings on fragrant sandalwood, rosewood and ivory … the rustle of rich silks … delicious Nanjangud bananas … Hot 'N' Spicy Bisi-bele-hulianna … mouthwatering Mysore Pak, a traditional sweetmeat … It is a gourmet's delight and a Shopper's paradise.
Shop at Cauvery Handicrafts Emporium or in the little backstreets and bylanes that offer some exciting bargains. Mysore Come, experience it for yourself.
Steeped in History Mysore, capital city of the Wodeyars. Adobe of untold grandeur and glory, where the rich heritage of the Wodeyars is carefully preserved to this day in its magnificent places, beautifully laid-out gardens, imposing buildings, board shady avenues and sacred temples.
There's an old world charm about the city that reaches out and leaves no one untouched. Mysore, or Mahishur as it was called then, traces its history back to the mythical past, when Godess Chamundeshwari of Chamundi Hills killed the wicked buffalo-headed Demon, Mahishasura.
Mysore Dasara is the celebration of this victory of good over evil. Mysore also has associations with the Mahabharata and King Ashoka of the 3rd century B.C. during the Wodeyar rule Mysore reached the zenith of its glory as a fabled centre of oriental splendour.
Pomp and Pageantry Relived Come to Mysore in October when the tranquil city awakens to ten days of Dasara festivities. Brilliantly lit up Palaces, decorated arches, festooned streets, colourful costumes and cultural shows…classical music, folk dances, Bharata Natyam, Yakshagana, Huthari, Torch Light Parade, Theppotsava… The culmination is the legendary Mysore Dasara Procession with caparisoned elephants, the golden howdah, decorated horses, stately coaches, troops in ceremonial uniforms, folk dancers and colourful floats.