Odisha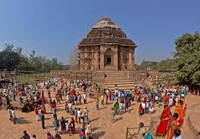 The tribal state of India, Odisha brims with beautiful rivers, pristine beaches, holy temples, shimmering rivers, cascading waterfalls and exciting wildlife sanctuaries. From delectable dishes of Odishan kitchens to uncountable Buddhist universities, and from ancient Jain rock carvings to age old Hindu relics ? the state never fails to impress anyone.
Places to Visit
For the devotees of history and religion, Bhubaneswar is an ideal city to visit.This Temple City is an unmatched exemplar of history, heritage, and urbanisation with some key attractions like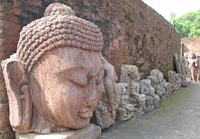 Dhauli Hills, Udayagiri & Khandagiri caves, Nandan Kanan Zoological Park, Ratnagiri Buddhist Excavations, Bindu Sarovara, etc. Puri is another must visit place inOdisha that lets you savour everything from sun kissed beaches to ancient temples and busy markets. Puri houses some of the most priceless places to visit some of which are Puri Beach, Puri Beach Festival, Puri Jagannath temple and Chilika Lake & Bird Sanctuary. If you are a worshipper of art and architecture, then carvings of the Konark Sun Temple are definitely for you. Also, visit Cuttack, a vintage city with wonders like Mahanadi Barrage, Fort of Barabati, Bhitarkanika Wildlife Sanctuary and Ansupa Lake. Serenity seekers never miss a chance to visit Shanti Stupa at Dhauligiri.
Festivals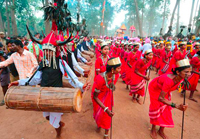 Festivals of Odisha are as fascinating as this state. Odisha Tribal Festivals remain the most popular ones luring many cultural aficionados here. Orissa Tribal festivals bring together all the tribes and showcase the strong bond between them. Some of the most popular tribal festivals here include Folk Dance Festival at Sambalpur, Tribal Fair at Bhubaneswar, the Chhow Festival at Baripada, and the Tribal Festival at Koraput. The Puri Beach Festival is a mix of cultures and relaxation. This is an amalgamation of art, craft, culture, sports and cuisines. This is your chance to witness classical music, handicraft exhibitions, traditional beach sports and sand art at the Puri Beach.
The International Sand Art Festival of Odisha is a world famous event held at the Chandrabhaga Beach. Sand artists from all over the world participate in this festival to create beautiful art out of soft golden sands. Konark Dance Festival is another not to be missed festival hosted in the amphitheatre of the Konark Temple. Veterans of various classical dance forms partake in this festival to showcase their beautiful skills. Another most-awaited festival of Odisha is Jagannath Rath Yatra dedicated to Lord Jagannath.? Larger than life processions are organised with 45.6 feet high chariots of three deities from the Jagannath Temple to the Gundicha Temple during the festival. Thousands of devotees participate in the Yatra who can be seen dancing, singing, and offering flowers to the deities.
Food
Odisha's culinary tradition goes back to centauries. Majority of the locals here are non-vegetarians who love fish dishes. Rice is the staple food of the state. Mudhi and pitha are popular snack items followed by lunch which includes curries like Crab Kalia, Maccha Ghanta and Bhendi Bhaja.? Oriya desserts can make you fall for gluttony with ingredients like milk, Chhenna, coconut, rice, and wheat flour. Rasgulla, Rasmalai, Khirmohan and Rasabali are some popular sweets of Odisha. Also, do taste Khecede (Khichdi), Chungdi Malai (Prawn Malai curry) and Macher Kalia with Aloo (traditional Bengali fish) here.
Shopping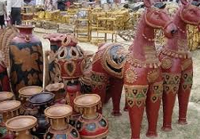 Odisha is a great place to pick souvenirs for your friends and family. From beautiful silver filigree work of Cuttack to intricate paintings from Raghurajpur and hand woven fabrics from Sambalpur ? Odisha is a charmer for shoppers. Do not miss buying a sand sculpture from Puri as well. The state's Applique work textiles are extremely popular among travellers. Females can buy beautiful ornaments carved out by the filigree artists. ??
How to Reach
By Air: The Biju Patnaik Airport at Bhubaneswar serves regular flights from all major Indian cities like New Delhi, Kolkata, Hyderabad, Raipur, etc. ?
By Rail: Bhubaneshwar railway station is a major railway station in Orissa.
By Road: The state is well connected through National highways and State highways and thus, reaching here by road is a good option.