Kanha Tourism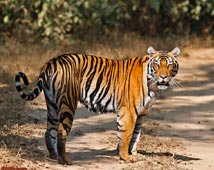 Kanha's sal and bamboo forests, rolling grasslands and meandering streams stretch over 940 sq km in dramatic natural splendour which form the core of the Kanha Tiger Reserve created in 1974 under Project Tiger. The park is the only habitat of the rare hardground Barasingha (Cervus Duvaceli Branderi).
This is original Kipling country of which he wrote so vividly in his Jungle Book. The same abundance of wild life species exists today in Kanha National Park, as it must have when Kipling roamed these parts.
The Kanha National Park, stretching over 940 sq km, the vegetation, chiefly made of sal and bamboo forests, grasslands and streams, this park is the sole habitat of the rare hardground barasingha.
The forests of the Banjar valley and Halon valley, respectively forming Kanha's western and eastern halves, had even , at the turn of the century, been famous for their deer and tiger population. By a special statute in 1955, Kanha National Park came into being.
Since then, a string of stringent conservation programmes have been launched, for the overall protection of the park's fauna and flora. It is one of the most well-maintained National Parks in Asia, and a major attraction for avid wildlife buffs all over the world.
Places to See in Kanha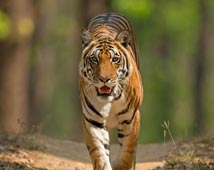 Bamni Dadar
It is also known as the sunset point is quite popular among tourists. Most tourists visit Bamni Dadar to get the wonderful view of the setting sun and this is also one of the beautiful area in the park, Animals that can be sighted around this pont are typical of the mixed forest zone: sambar, barking deer, gaur and the four-horned antelope etc.
Kanha Museum
Kanha Museum inside the park is another interesting place to visit. The museum is the right place to understand the topography and other interesting aspects of the park.
How to Reach Kanha
By Road
Jabalpur: 230 km 5 hours
Nagpur: 300 km 6 hours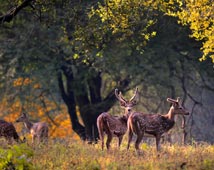 Raipur: 230 km 5 hours
Bandhavgarh : 325 km 7 hours
By Air
Jabalpur : 230 km 5 hours
Raipur : 230 km 5 hours
By Rail
Umaria : 35 km 1 hour
Satna : 130 km 3 hours