West Bengal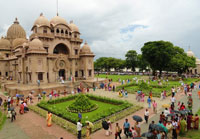 Residing in eastern India, West Bengal surprises all with diverse civilizations and a great historical background. The state has its mentions in the epic Mahabharata. West Bengal evokes images of ladies in white and red saris, dramatic dance performances by local artists, aromas of mustard-cooked fish, and the sweetness of Rasgulla in the mouth. Here you can find some of the oldest temples and splendid British monuments apart from sprawling tea gardens.
Places to Visit
A holiday to West Bengal is like a rollercoaster ride. Every nook and corner here surprises you with something unique. Kolkata, the capital of West Bengal, tells a lot about the state's remarkable history. Howrah Bridge is an iconic landmark here apart from Jorasanko Thakurbari, Park Street, Indian Museum, Victoria Memorial, etc.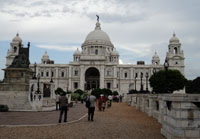 The tea gardens of Darjeeling never fail to impress travellers. Darjeeling Himalayan Railway, also known as the 'Toy Train', promises you the most scenic rail journey.Experience the world of wilderness at Singalila National Park and Padmaja Naidu Himalayan Zoological Park of Darjeeling.For a serene escape,the quaint town of Bankura is ideal in West Bengal. Bankura lets you unwind amidst nature with attractions like Jhilmili forested area, Biharinath Hill and Mukutmonipur. Known as the longest drivable beach in India, Mandarmani is a must visit in the state. From here you can catch the most beautiful sunrise and sunset views. Water sports enthusiasts can partake in surfing, jet skiing and?? ?banana boat rides here. Sunderbans is definitely a must visit in West Bengal. Explore the largest Mangrove Forest where you can spot Bengal tigers roaming freely in their natural habitat. For a serene city escape, Siliguri is also ideal. This pristine hill station of the state is adorned with numerous wonders of nature. Hooghly also holds spiritual and historical significance with influences from Portuguese, French and the Dutch.
Festivals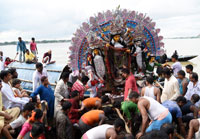 The colourfulness of West Bengal can be clearly seen in festivals celebrated here. The locals are connected to their heritage and tradition. Experience the festivities of Durga Puja, the biggest festival of the state. The festival is dedicated to Maa Shakti, Durga, and lasts for 10 days full of dance, drama, professions, music, food and cultural entertainment. Rash Mela, honouring Lord Krishna and his love for Sri Radhika, sees huge pandals, beating of drums, food stalls, and devotees indulging in various rituals. Also, witness Poush Mela organized at Santiniketan. The exuberant festivities of this fair include Bengali folk music, particularly Baul music apart from exhibition of handicrafts, authentic Bengali dishes, and much more. Gangasagar Mela also holds great religious significance and sees huge gathering from all parts of the world. The mela sees devotes taking dip in the holy River Ganga to wash their sins. Thereafter, they visit the temple of 'Kapil Muni'.
Rath Yatra in Kolkata, carrying the chariot of Jagannath, is also a popular event in the state. Thousands of people participate in this procession which starts from ISKCON.
Food
Bengali cuisine includes much more than fish and Rosogullas. Bengalis are highly fascinated by their food and it plays a major role in all their celebrations. Luchi-Alur Dom (potatoes served with puris) is cooked in every household here. If you are devotee of non-vegetarian dish then Keemar Doi Bora (minced meat with sweet and spicy curd) is ideal for you. Also, savour the taste of Kathi Rolls (stuffed thin wraps). Jhal Muri is the most common snack item of West Bengal. Shukto is a popular vegetarian delicacy prepared with numerous vegetables and signature five spices of Bengal. Fish lovers must try Bhetki Macher Paturi and Ilish Maach. West Bengal is renowned for its sweets. You can find everything here from rosogullas to sondesh and chamcham.
Shopping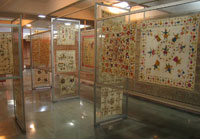 West Bengal is known for its arts and crafts, including clay, conch, shoal, conch-shell, jute, etc. Here you can bag authentic Bengali silk saris and Batik work Saris from local markets of the state. The state is known for fabrics with Kantha, Chikan, Kashida and Zari work. Jute grows in West Bengal and thus, don't miss buying jute fabric and handicrafts from here.
How to Reach
By Air: Netaji Subhas Chandra Bose International Airport is the international airport of West Bengal is located in Kolkata.
By Rail: Those planning to visit West Bengal by train can get down at the Howrah railway station and Sealdah railway station in Kolkata.
By Road: Roads of the state are also well planned and thus, road travel to West Bengal also offers great pleasure.