Madhya Pradesh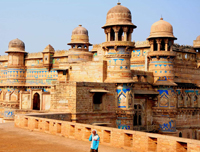 'The very heart of India, Madhya Pradesh is blessed with majestic forts, splendid topography, thrilling wildlife, caves and holiest temples. This is the reason why thousands of domestic as well as international travellers visit here every year to be a part of this cultural extravaganza.
Places to Visit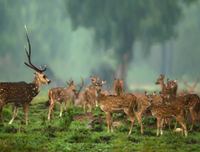 Madhya Pradesh houses some of the most vibrant cities where you can relive the history of this state while eyeing the most modern facades. Visit Bhopal, the city of lakes, where you can eye attractions like Upper Lake, Lower Lake, Bhimbetka, Bhojpur, State Museum, Birla Museum, etc. Indore also charms everyone with its perfect fusion of rich heritage, ancient monuments, and unbelievable architecture. Here places like Patalpani Waterfall, Ralamandal Wildlife Sanctuary, Lal Bagh Palace, Central Museum and Tincha Waterfall remain on the itinerary of every traveller. Gwalior is an ideal stopover for the devotees of cultures and history with grand palaces like Gwalior Fort, Jai Vilas Palace, and Mansingh Palace.
Orchha also lures travellers with its impressive caretakers of Rajputana architecture in the form of forts & temples like Orchha Fort, Raja Ram Temple, Raja Mahal, Chaturbhuj Temple, etc. The Kanha National Park is perhaps the most visited wonder of Madhya Pradesh where you can spot some of the rarest species of animals like Barasingha and Swamp deer. The park is blanketed with Sal & Mahua trees and makes a perfect heaven for wild animals. Another major wildlife hub in the state is Pench known for spotting the Royal Bengal Tigers, bison, sambar deer, striped hyena, striped hyena, etc. Wildlife enthusiasts can also explore Bandhavgarh which is home to tigers and many species of birds.
For religious souls, Sanchi remains the most popular place to visit here. Here you can learn a lot about the teachings of Buddhism by visiting Sanchi Stupa, Ashoka Pillars, Buddhist Vihara, Toranas, Monasteries, Gupta Temple and Sanchi Museum. Also, visit Ujjain, a famous Hindu pilgrimage centre.
Festivals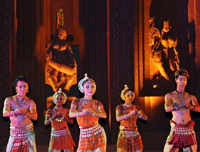 Fairs and festivals of Madhya Pradesh are as colourful as the state itself. They belong to different communities who bring in their own rituals, traditions and history here. Khajuraho Dance Festival is the most popular manifestation of India's art and dance forms. The festival includes open air stage performances displaying many art forms like Kathak, Bharathanatyam, Odissi, Kuchipudi, Manipuri and Kathakali. Lokrang Festival is another grand dance festival that brings to you folk music and ethnic dances. It is celebrated in Bhopal and offers you great opportunities to shop tribal souvenirs. If you love poetry, then Akhil Bhartiya Kalidas Samaroh is for you. The festival is hosted in Ujjain and brings together a melange of some of the most beautiful poetries by world famous poets. Bhagoria Haat Festival is a tribal festival where tribal boys and girls choose their life partners.
Ujjain is one of the places where the grand Kumbh Mela is organised. The fair celebrates the victory of good and is a classical representation of Indian religions and cultures. ?
Other popular festivals of Madhya Pradesh include Pachmarhi Utsav, Maha Shivratri Festival, Tansen Music Festival, etc.
Food
Food of Madhya Pradesh is light on your stomach and heavy on your taste buds. Try Poha which is made with flattened rice, onions, tomatoes and spices. Daal Bafla, inspired from Rajasthan, includes wheat balls served with dal. Non vegetarians must try Seekh Kebabs and Bhopali Gosht Korma. Locals here are really fond of Palak Puri which is eaten as a breakfast meal. In sweets, Malpua and Jalebi are must try.
Shopping
Madhya Pradesh brings to you everything from antique handicrafts to world renowned brands.? Here you find an exquisite range of muslins which are turned into Chanderi and Maheshwari saris. Gwalior is known for its colourful bazaars selling items like lacquer ware, dolls, hand-woven carpets and saris. The Chowk and the New Market in Bhopal brim with locals and travellers buying embroidered bags and dress materials in tussar. Indore is perfect to pick beautiful bangles and jewellery, wood-carved products, brocade fabrics, etc. Also visit Jabalpur for buying clothing made with delicate zardozi needlework. Those visiting Khajuraho can bag beautiful miniatures of stone-carved replicas of the temples here.
How to Reach
Air : Raja Bhoj International Airport in Bhopal and Devi Ahilyabai Holkar International airport in Indore are two major international airports of the state.
Rail : Train connects all major cities of Madhya Pradesh like Bhopal, Indore, Katni, Jabalpur, Ujjain, Khandwa, Itarsi, etc.
Road : Madhya Pradesh can be easily accessed by road from neighbouring states and cities.