Aizawl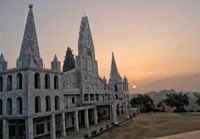 Neatly placed in the gorgeous North East, Aizawl is the capital of the state of Mizoram. This serene town is blessed with immaculate locations, verdant meadows, and soothing ambience. It has become a popular tourist destination for serenity seekers looking for a serene location to unwind. Its simple cultures are alluring and keep you hooked to this heaven for long.
Tamdil Lake is the most popular attraction in Aizawl. Situated near Saitual village, the lake is the largest in Mizoram and offers boating facilities. Here you can spot a rare species of frog called Leptolalax. The crystal clear water of the lake beautifully reflects the nature surrounding it and it makes an ideal location for a day picnic. Also visit KV Paradise, often termed as the modern Taj Mahal of Mizoram. This three storey mausoleum is an epitome of eternal love as it was built by a husband who lost his wife in a car accident with all his lifetime savings. If you are devotee of flora and fauna, then visit the Khawnglung Wildlife Sanctuary spreading over an area of 35 square kilometres. Here you can spot Tiger, Sambar, Barking Deer, Serrow and Hoolock Gibbon apart from plenty of birds. Durtlang Hills is also a gorgeous location away for busy crowds. From here you can enjoy panoramic view of Aizawl. A trip to these hills is exciting as it is flanked by rocky terrains and hilly slopes. Also, spend some time close to the Vantawng Falls in the Serchhip district. This is the thirteenth highest waterfall of India and offers spectacular views of nature.
Mizoram State Museum in Aizawl takes you back into the history of the state with archaeological artefacts, photographs, etc. There is also a special gallery displayed here dedicated to the Mizo tribes.
How to Reach
By Air: Lengpui Airport is a domestic airport in Aizawl connected by flights with Guwahati, Kolkata and Imphal.
By Rail: Silchar is the nearest railway station to Aizawl, located 130 Kms away from the city.
By Road: One can easily reach Aizawl from Silchar by car, bus, taxi, etc.