Cherrapunji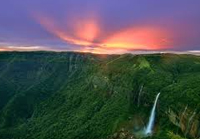 Cherrapunjee in the Indian town of Meghalaya is counted among the wettest places on the earth. It is clean and looks unspoiled with some of the most unbelievable sights of nature. Showers of rain wash this town all year round and it remains a must visit for the worshippers of Mother Nature.
Cherrapunjee is world renowned for its Double Decker Living Root Bridge made naturally with Indian Rubber Tree. The bridge has a capacity to carry around 50 people at a time and looks beautiful with Umshiang River flowing beneath.
Nohkalikai Falls is a must visit place in Cherrapunjee. The awe-inspiring waterfall is the tallest in the country cascading from a height of 1115 feet. Watching the crystalline water of the Nohkalikai Falls from unbelievable height is a breathtaking experience. The vistas around the falls are jaw-dropping and instantly make all visitors fall in love with it. Dainthlen Falls also lure travellers with their fascinating legend which says that the locals here killed a snake dwelling in the nearby cave. The rock carvings here symbolize evil and greed.
Also visit the Mawsmai Cave for a thrilling experience. Take a walk inside this cave where every turn brings to you a new thrill. Eye the formation of rocks and their patterns carefully as they look magical. For dramatic views of nature, visit the Thangkharang Park located 12 km from the city. Being located on the edge of a cliff, this park offers 180 degree views of the surrounding plains.
Other popular attractions in Cherrapunjee include Mawkdok Dympep Valley, Dain-Thlen Falls, Arwah Cave, Sa-I-Mika Park, etc.
How to Reach
By Air: Guwahati airport is the closest major airport to Cherrapunji.
By Rail: Guwahati is the nearest railhead to Cherrapunji.
By Road: Buses services for Cherrapunji can be availed from Sohra Bus Stand in the Bara Bazaar area of Shillong.