Tamil Nadu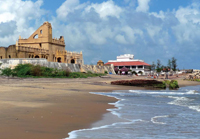 Cultured and colourful, Tamil Nadu is like a beautiful painting on the canvas. This South Indian state has abundance of natural resources and makes an ideal destination to fall in love with the wonders of nature. Rolling mountains, blue seas, pristine beaches, beautiful fields and cascading waterfalls together make this state a great escape from busy city life. Tamil Nadu has some of the most contemporary cities as well with sky piercing edifices.
Places to Visit
Start your holidays to Tamil Nadu in Chennai housing more than its fair share of temples, churches and beaches. Spend a day at the beautiful Marina Beach, enjoy nature walks at Semmozhi Poonga, spot flamboyant birds at Huddleston Gardens Of Theosophical Society, plan a day picnic at Pulicat Lake or delve into spirituality at Kapaleeswarar Temple ? Chennai has everything for everyone. Mahabalipuram is another ancient city of Tamil Nadu oozing spirituality and serenity. Enjoy a visit to the grand Arjuna's Penance carved on two big rocks. Thirukadalmallai, built by the Pallavas, holds great importance among locals. ?Mahabalipuram is home to 8 Rock-Cut Cave Temples dating back to the 7th century. Also, visit the Shore Temple built in splendid Pallava style.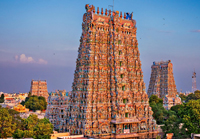 Kanyakumari is a must visit in Tamil Nadu known for its list of temples built in Dravidian style of architecture. Kanyakumari Temple is a significant holy shrine in Hindu mythology.? Also, visit the iconic Vivekananda Rock Memorial in Kanyakumari, which can be reached by a ferry. The distinctive Dravidian style of Suchindrum is also worth cherishing here. Madurai is the holiest site in India with temples flaunting architectural brilliance. The Sree Meenakshi Amman Temple here spreads beyond 6 hectares and flaunts unmatched architectural brilliance. Thirupparankundram Murugan Temple is one of the six abodes of god Murugan and holds great significance among locals. Other popular places to visit in Madurai include Gandhi Museum, Samanar Hills, Koodal Azhagar temple, etc.
Those seeking a peaceful escape amidst nature must visit Kodaikanal in Tamil Nadu, home to the rare Kurunji Flower. Here you can savour natural wonders like Berijam Lake, Coakers Walk, Kodai Lake, Dolphin's Nose, Bryant Park, etc. Ooty is another beautiful hill station of Tamil Nadu blessed with attractions like Botanical Gardens, tea factory, Doddabetta Peak, Avalanche Lake, Government Rose Gardens, Pykara River, Ooty Lake, etc.
Other popular places to visit in Tamil Nadu include Kanchipuram (Ekambareswarar Temple, Kamakshi Amman Temple, Kailasanathar Temple, Kanchi Kudil, Vedanthangal Bird Sanctuary), Coimbatore (Marudamalai Temple, Adiyogi Shiva, Eachanari Vinayagar Temple, Siruvani Waterfalls, Anubhavi Subramaniar Temple), and Tirunelveli (Nellaiappar Temple, Sankaranarayanan Koil, Papanasam, Kutralam, Mundanthurai Tiger Reserve and Venkatachalapathy Temple).
Festivals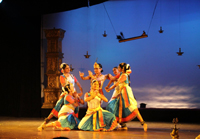 Festivals of Tamil Nadu are larger than life. Pongal is a popular harvest festival of the state celebrated to thank the Sun God. People prepare grand meals, adorn their houses and worship their cattle during Pongal. Tamil New Year's Day sees women making Kolams at the entrance of their houses, hanging mango tree leaves, and preparing delicious food for the deity. Natyanjali Dance Festival is another popular festival of the state where over 300-400 dancers participate representing their rich and diverse culture.
Mahamaham Festival is a Hindu Festival which is celebrated once in 12 years here. Devotees from all parts of the world visit the famous 'Mahamaham tank' on this day to take a holy dip to purify their sins.
Food
Traditional Tamil cuisine is served on a banana leaf and is eaten using clean fingers. Most of the dishes of the state are light on your stomach. Uttapam is a popular dish made using Urad Dal and rice powder. Banana Bonda is also loved by the locals. Rasam, a soup like dish, is cooked in every household using tomatoes, pepper and cumin seed. Dosa served with Sambar and coconut chutney makes a wholesome meal for locals. Idli and Vada remain popular breakfast dishes of the state. Also, savour the taste of lemon rice with oodles of flavour. Paruppu Payasam is a simple yet delectable sweet dish of Tamil Nadu made with roasted Moong dal, jaggery syrup and dry fruits. Pongal is another traditional dish cooked during the festival of Pongal with rice, sweet milk, and nuts.
Shopping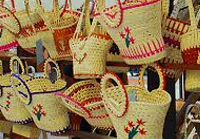 Tamil Nadu is one of the most popular places in India for shoppers. With its exquisite arts and crafts, the state treats you with some traditional silk of Kanchipuram, Pattamara mats and the leaf. Here you can also bag Tirunellveli's Palmyra-fiber handicrafts, bronze and brass castings and jewellery from Kumbakonam. Chennai is a popular ground for buying silk, embroidered saris and hand-woven garments. Madurai is a known textile hub of South India where you can find a variety of readymade silk and cotton garments.
How to Reach
By Air: Chennai International Airport, serving the city of Chennai, is ideal to reach the state from all parts of the world. Other options are Coimbatore International Airport in Coimbatore, Madurai International Airport in Madurai, Tiruchirappalli International Airport in Tiruchi, Tuticorin Airport serving the districts of Tuticorin and Tirunelveli, and Salem Airport in Kamalapuram.
By Rail: The Southern Railways has a huge network with its focal point at Chennai. The Chennai Central railway station is a major one here followed by Madurai, Tiruchirapalli, Salem, and Coimbatore.
By Road: Tamil Nadu has a road network with numerous private bus operators and government buses serving the state.