Khajuraho Tourism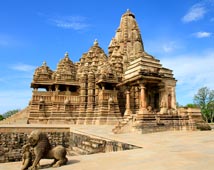 Khajuraho, the temple city of central India, is famous throughout the world for its exquisitely carved temples in stones. Thousands of visitors and tourists from all over the world flock together to envisage this immortal saga of Hindu art and culture engraved in stone by shilpies (stone craftsmen) a millenia ago.
Today, apart from the temples, Khajuraho is a small village but a thousand years ago it was a large city of the Chandelas, medieval Rajput kings who ruled over Central India. Khajuraho is 595 km (370 miles) south-east of Delhi and can be visited by air, rail or road. An overnight train journey from Delhi takes the visitor to Jhansi, from where another morning train takes him to Harpalpur 85 km (53 miles) to the east.

According to the account of the medieval court poet, Chandbardai, in the Mahoba-khand of his Prithviraj Raso, Hemvati was the beautiful daughter of Hemraj, the royal priest of Kashi (Varanasi).
One summer night, while she was bathing in the sparkling waters of a lotus-filled pond, the Moon god was so awestruck by her beauty that he descended to earth in human form and ravished her.
The distressed Hemvati, who was unfortunately a child widow, threatened to curse the god for ruining her life and reputation. To make amends for his folly the Moon god promised that she would become the mother of a valiant son.
'Take him to Khajjurpura', he is believed to have said. 'He will be a great king and build numerous temples surrounded by lakes and gardens. He will also perform a yagya (religious ceremony) through which your sin will be washed away.' Following his instructions, Hemvati left her home to give birth to her son in a tiny village.
The child, Chandravarman, was as lustrous as his father, brave and strong. By the time he was 16 years old he could kill tigers or lions with his bare hands. Delighted by his feats, Hemvati invoked the Moon god, who presented their son with a touchstone which could turn iron into gold, and installed him as king at Khajuraho.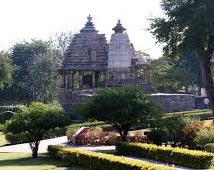 Tourist Places in Khajuraho
Eastern Group of Temples
Adinath Temple: Dedicated to the Jain saint, Adinath, the temple is lavishly embellished with sculpted figures, including yakshis. The three Hindu temples of the group are the Brahma, containing a four faced lingam, the Vamana, which is adorned on its outer walls with carving of apsaras in a variety of sensuous attitudes; and the javari, with a richly-carved gateway and exterior sculptures.
Western Group of Temples
The Western group is certainly the best known, because it is to this group that the largest and most typical Khajuraho temple belongs: The Kandariya Mahadev.
Southern Group of Temples
Dulah Deo Temple: This finest temple at Khajuraho also called Kunwar Math offers some of the choicest sculptures especially the Shalbhanjika. It is a fully developed temple measuring 21 m by 12 m (69 ft. by 40 ft.) with the ardhamanadap, the mandapa, the maha mandapa, the antarala and the garbha griha with no circumambulatory passage.
Excursions of Khajuraho
Panna National Park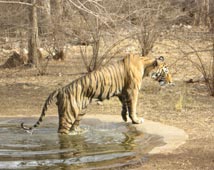 Complementing the man made perfection of the Khajuraho temples, is the dramatic scenic splendour of Panna National Park, 32 km away.
Raneh Falls
Raneh Falls ( 19 kms ) on the ken river are famous fror their rock formations. The main attraction is a 5 - km - long, 100 - foot - deep canyon made of pure crystalline granite in varying sahdes of colors ranging pink and red to grey. A series of seasonal waterfalls surrounded by jungles make it an ideal picnic spot.
Ken Nature Trail
Ken Nature Trail ( 22 km ), within a walking distance from Raneh falls, is a jungle track exhibiting natural beauty and imparts a knowledge of the surroundings.
How to Reach Khajuraho
By Air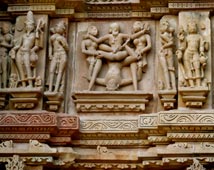 Khajuraho Air service is driect link with Delhi, Agra, Varanasi and Kathmandu.
By Rail
The nearest railheads are Mahoba and Harpalpur. Jhansi is a convenient railhead for those travelling from Mumbai, Delhi and Chennai and Varanasi the railhead is Satna, on the Mumbai-Allahabad section of the Central Railway is ideal. Delhi, Mumbai, Calcutta, Chennai, Agra by train to the railheads.
By Road
Khajuraho is connected by regular and direct bus services with Chhatarpur, Mahoba, Harpalpur, Satna, panna, Jhansi, Gwalior, Agra, Sagar, Jabalpur, indore, Bhopal, Varanasi and Allahabad.