Rameshwaram Tour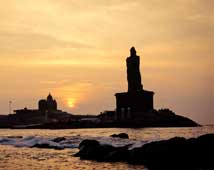 Rameswaram, a small island in the Gulf of Mannar, is a major pilgrim centre .It is connected to the mainland by road and rail bridges. Rameswaram is holy, because Sri Rama, on his return from Sri Lanka, offered his thanks to Lord Shiva and performed pooja to wash away his sins which he got by killing Demon King, Ravana.
Rameswaram is known for its theerthas( wells ) in and around the main temple. This place is equally sacred to both Vaishnavites and Saivites.
According to Hindu Mithology, if one will visit Rameswaram and pray Lord Shiva means, the whole sins will be relieved from the body.
The Ramanathaswamy temple is renowned for its magnificent corridors and massive sculptured pillars. The third corridor of Ramanathaswamy temple is the longest one in the world .
Besides pilgrimage, Rameswaram Island has several places which ideally suites for picnic programmes. There are beautiful beaches at Olaikuda, Dhanushkodi and Pamban. Olaikuda beach ( 1 km ) from the main temple is engulfed by coral reefs which makes sea bathing safe and enjoyable .With diving glasses and respiration tubes, Scuba diving can be done safely. Australian Flamingos, Sea Gulls and variety of birds migrates to Rameswaram Island during winter.
Rameswaram is one of the main fishing centres of Tamil Nadu. Variety of fishes including export quality fish like prawns, sea cucumber, lobster etc. are available, Rameswaram is also famous for its dry fish.