Karnataka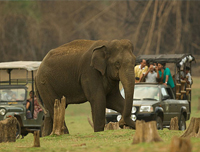 The rich land of silks, spices and sandalwood, Karnataka stands out on the map of India due to its diverse facades which include beautiful wildlife parks, grand monuments & heritage sites, pristine beaches and serene pilgrimage sites. Ancient sculptured temples are common yet astonishing lures in Karnataka.
Places to Visit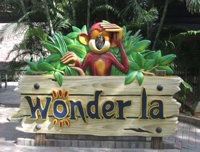 Bangalore, a colourful city brimming with cultures, is a renowned IT hub of the country. The city offers you everything from wildlife to nature, ruins to museums and architectural wonders. Some of the best places to visit in Bangalore include Surayanarayana Temple, Ragigudda Anjaneya Temple, Infant Jesus Shrine, Wonderla Amusement Park, ISKCON Temple Bangalore, Visvesvaraya Industrial and Technological Museum, etc. For a bag full of nature, nothing can be as charming as Coorg, aptly called the 'Scotland of India'. Blessed with never ending coffee estates, Coorg takes you through winding trails, wildlife sanctuaries and monasteries. Adventurers can enjoy a trek up to Brahmagiri Peak and Chettalli here. Those on a leisure holiday to unwind can visit Kabini. Here one can enjoy spectacular wildlife as it is situated on the edge of Rajiv Gandhi National Park, Bandipur Forest, and Nagarhole National Park. Also, the only thought of Jog Falls makes many jaws drop. This is the second highest waterfalls in India falling from a height of 253 m. Shimoga, known for its verdant greenery and calm ambience, remains a must visit in Karnataka. Here you can relish the sights of Shivappa Nayaka Summer Palace, Kote Seeta-Rama Temple, Sacred Heart Cathedral, and Tyavarekoppa Lion Safari. For a beach experience, Mangalore is an apt tourist place with pristine beaches like Tannirbhavi Beach and Panambur Beach. Hampi, a declared World Heritage Site by UNESCO, shows you the ruins of Vijayanagara Kingdom. Here you can see over 500 architectural structures telling you everything about the cultural heritage of this place.
Other prominent places to visit in Karnataka include Karwar, Gokarna, Bandipur National Park, Dandeli, etc.
Festivals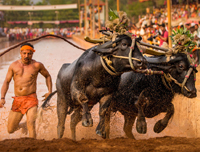 Festivals of Karnataka are mostly dedicated to art and culture. From larger than life celebrations of Mysore Dussehra in Mysore to impressive festivities of Makar Sankranti in Kununurra ? every festival here is celebrated with great fervour. Hampi Festival takes you to architectural ruins of Hampi where this glorious festival is celebrated along with dance, drama, fireworks, puppet shows, parades, etc. ?Kambala Festival, dedicated to Lord Kadri Manjunatha, sees more than 150 pairs of buffaloes. The festival sees buffalo race and various competitions where farmers participate. Ugadi, the New Year in Karnataka, holds great importance among the locals who adorn their houses, sing folk music and chant holy mantras to welcome a new year. Pongal underlines the traditions of Karnataka when locals prepare pongal and feed their cattle. Dussehra of Mysore is world renowned for its grand cultural extravaganza. A royal procession is held during the festival which is led by the Maharaja of Mysore. Mysore Palace is adorned and lit up like a new bride during this 10 day long festival.
Food
The cuisine of Karnataka includes both vegetarian and non-vegetarian dishes. It remains one of the oldest surviving cuisines which leave a long lasting taste on our tongue. Neer Dosa is a very famous dish of the state which is served with chutney, curry or sambar. Korri Gassi is a known non vegetarian dish made with chicken cooked in spices and ground fresh coconut. Kundapura Koli Saaru is another form of chicken dish which is loved in the Mangalorean coastal region. Do not miss a chance to taste Mysore masala dosa. Mysore Pak is a popular sweet item of the state made using Besan (Gram Flour), Ghee and sugar. The locals of Karnataka are very fond of chutneys and thus, one can find a diverse variety of chutneys here which include Kadalekaayi chutney, Hurali chutney, Kaayi chutney, Kaayi chutney, Maavina chutney, etc.
Shopping
Karnataka brings to you a range of locally made items which make great souvenirs. Here you can bag Sandalwood sculptures, Incense sticks, Perfumes, Sandalwood Oil, Wood Carvings, Inlay Work, Mysore Silks, Mysore Paintings, Bijapur Sarees, Bijapur Jewellery, Bijapur Handlooms, Lambani Jewellery, Handlooms From Guledgudda and Ilkal Sarees. Bangalore and Mysore are renowned for selling beautiful range of saris.
How to Reach
Air : Karnataka houses 6 airports in Bangalore, Mangalore, Hampi, Hubli, Belgaum and Bijapur. The Mangalore international airport and the HAL airport are two international airports of the state.
Rail : Karnataka offers seamless connectivity via train.
Road : Travellers can find many buses run by Karnataka State Road Transport Corporation to reach all parts of the state.