Puducherry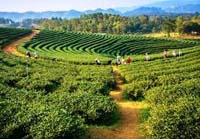 Charming the world with its impressive French architecture, Puducherry is a union territory of India. It was earlier known with the name of Puducherry. However, in 2006 its name was changed to Puducherry. The influence of French culture is fairly prominent here. It is a known place for seeking spiritual enlightenment, thus, attracting many tired souls. From beautiful beaches to delicious French food and jovial cultures ? Puducherry has its own way to charm its visitors.
Places to Visit
Sri Aurobindo Ashram remains the most popular attraction here established on November 24th 1926 by Sri Aurobindo Ghosh. The ashram is great for learning the teachings of Sri Aurobindo and Mira Alfassa.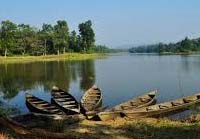 Here you can explore offices, library, printing press, playground, art gallery, etc. Puducherry Museum also tells a lot about the history of this place with exhibits like sculptures, handicrafts and archaeological findings.Some of the furniture and coins displayed here are from the French colonial time. For some serene moments, the Botanical Garden of Puducherry is an ideal place. It consists of six gorgeous fountains apart from a huge aquarium with a variety of marine life. Click some beautiful pictures here while cherishing every facade of nature.
For a beach experience, visit the Promenade. Enjoy a stroll along the coast here apart from tasting yummy sea food at beach side cafes and restaurants. The unspoilt beauty of the Paradise beach here is also worth cherishing. Many honeymoon couples can be spotted here walking hand in hand.
Auroville, an experimental township of Puducherry, remains a must visit. Designed by famous architect Roger Anger, Auroville houses people belonging to diverse nationalities, cultures and beliefs. They all live here together in harmony. The Matrimandir, devoted towards integral Yoga practitioners, catches the attention of all. ?Other than these, the Gothic architecture of the Basilica of the Sacred Heart of Jesus looks jaw dropping. The colourful stained glass panels of the church showcase life events of Jesus Christ.
Festivals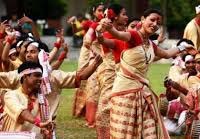 Puducherry celebrates a number of festivals all year long. Villianur Temple Car Festival is a popular one here blending together cultures, religions and heritage. On this day, a procession with decorated chariot of the god is carried out by devotees who then prepare meal and serve the crowd. Bastille Day, also known as the 'National Day of France', holds great importance in Puducherry. On the evening of the Bastille Day, retired soldiers partake in parade while singing Indian and French National Anthems. Birth Anniversary of Sri Aurobindo is celebrated in Puducherry with great fervour and dignity. The day is solemnized at the Aurobindo Ashram and is attended by many prominent figures. For the devotees of Fresh food, nothing is as satisfying as the French Food Festival. It is organized by Tourism department of Puducherry and acts as a great chance to taste French delicacies.
Other popular festivals here are International Yoga Festival Puducherry and Pongal.
Food
The food in Puducherry is influenced by the French cuisine. Authentic French food remains on the menu of all local eateries here. Some of the must try dishes include Baguettes, Croissants, Italian Baked Beans, Stuffed Cabbage, etc. Puducherry Cuisine also includes many south Indian delicacies like Masala Dosa, Sambar Vada, and Idli.
Shopping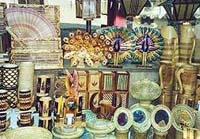 Puducherry is a shopper's paradise. It houses several shopping complexes and local markets selling candles, incense sticks, paper, etc. Travellers must buy household linen and garment textiles from here. Puducherry and Auroville sell unique earthenware. Leather is also produced in Puducherry and thus, one can find numerous leather products here. Visit the boutiques of Puducherry to bag hand-made incense, embossed candles, semi-precious stones, perfumes, etc. The Aurobindo Ashram factory produces handmade paper which remains a must buy.?
How to Reach
By Air: The airport at Puducherry serves flights coming in from Bangalore and Hyderabad.
By Rail: Assam has 259 railway stations and thus rail connectivity is great here.
By Road: Both private and state-owned buses ply from Chennai, Thanjaur, Trichy, Coimbatore, etc. to Puducherry.