Gujarat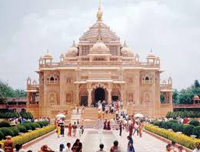 Gujarat is one Indian state that takes you on the well-beaten tourist trail where you get surprised at every step. With breathtaking architecture and excellent historic scenes, the state captures the heart of everyone. Gujarat proudly boasts of India's largest population of Asiatic lions, India's longest coastline, world's largest white deserts and first ever marine national park of the country. With so much to see and explore, the state never lets you take a sigh of boredom.
Places to Visit
There is absolutely no dearth of places to visit in Gujarat. It has some of the most enchanting wonders of history which make many jaws drop with their fascinating architecture. Start with the Great Rann of Kutch that spreads over 16000 sq. kms.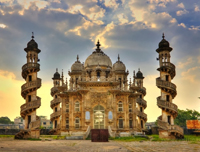 This largest salt desert in the world looks splendid on a full moon day.
Gujarat is a lavish retreat for history lovers. Visit Rani Ki Vav, a step well ornamented with unmatched architecture with figurative motifs and idols of god and goddesses. Dwarkadhish Temple is also must visit here as it is one of the four Dhams and Sapata Turis (seven sacred cities). The temple has historic significance and features five storey adorned with panels showing dancers, elephants, musicians and celestial beings. Somnath Temple is also extremely popular among devotees as it is counted amongst the 12 Jyotirlingas of Lord Shiva. The temple has Chalukya style of architecture and conducts the most expensive aarti. Also, visit the Modhera Sun Temple situated on the bank of the river Pushpavati in Mehsana. Its stands out due to its unique architecture having three separate elements Surya Kund, Sabha Mandap and Guda Mandap.? Mahabat Maqbara is a spectacular mausoleum of Nawab Mahabat Khan II in Junagadh. This palace-mausoleum is a hidden treasure trove of Gujarat and fascinates all with its impressive intricate carvings.
Sabarmati Ashram, dedicated to Mahatma Gandhi, holds a great importance in the history of India as many freedom movements were conducted here. The Ashram offers seamless serenity and gives you some hidden information of Mahatma Gandhi's life and teachings. ?
Gir National Park of Gujarat is a world renowned attraction known for spotting a large population of Asiatic lions apart from 2,375 other distinct fauna species, including Indian leopard, Indian cobra, jungle cat, striped hyena, Golden jackal, etc. Here you can also spot beautiful birds like great horned owl, crested serpent eagle, etc. Also, those seeking a serene escape can visit the Saputara Hill Station blessed with natural landscapes, amazing waterfalls, ropeway cab, and much more.
Festivals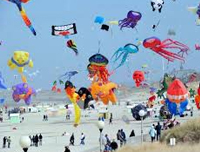 Gujarat is world renowned for being a culturally rich state. Every festival here is celebrated at a large scale. Navratri remains the most popular one when locals indulge in acoustic dandiya and garba dance for all 10 days. Rann Utsav is also a must visit in Gujarat when the exquisiteness of white desert becomes even more impressive with a host of cultural performances. Stay in extravagant tents, be a part of the Kutch Wildlife Sanctuary and indulge in a lavish food tasting experience during the festival. Gujarat also has its own kite festival when the sky comes alive with kites of vivid hues. Locals wholeheartedly participate in the International Kite Festival when friendly competitions are held. ?Apart from these, Shamlaji Melo and Vautha Mela are two popular animal trade festivals here when huge fairs are set up. ?
Food
Gujarati cuisine is really extensive as it ranges from vegetarian food to wholesome seafood. A simple Gujarati thali includes rotli, dal or kadhi and rice. Khichdi (rice and lentil or rice and mung bean) is cooked in every household. Gujaratis are very creative when it comes to their food items. They have a list of delectable snack items like dhokla (made of ground lentils and chickpea flour), Khandvi (thin layers of gram flour cooked with buttermilk), Gota (local pakoda dish), Muthiya (fist-cakes), etc. Theplas are Gujarat's own version of chapatti which taste mouth-watering. Gujarati Kadhi is a not to be missed curry made with thickened gram flour, spices and sweetened with a jiggery.
When it comes to sweet items, Fafda-Jalebi will definitely win your heart. Also, savour the taste of Mohanthal, a soft fudge-like sweet made using sweetened gram flour and nuts.
Shopping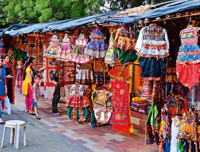 Having a prosperous art and craft industry, Gujarat is known for its handicrafts. ??Travellers can buy various textiles with ancient embroidery work from here. This makes them unique and adds to their popularity. Women can buy saris adorned with Zari works, mirrors, shells, tie-and-dye and block-print. Gujarat is also known for its flourishing diamond industry and thus, travellers must also check out jewellery shops selling beautiful ornaments. State Emporiums of Gujarat are ideal to bag handicrafts. Also, explore local markets like Law Garden Market, Dhalgarward /Teen Darwaja and Sindhi Market of Ahemedabad; Rander Road and Ring Road of Surat; and Bangadi Bazaar of Rajkot.
How to Reach
By Air: Sardar Vallabhbhai Patel International Airport in Ahmedabad serves international flights from all parts of the world. Gujarat also has the 17 domestic airports offering seamless connections within the country. ??
By Rail: Visiting Gujarat by train is a great option as the state has excellent rail connectivity with rest of the country. The Ahmedabad Railway Station, the Vadodara Railway Station, the Rajkot Railway Station and the Surat Railway Station remain the most popular ones.
By Road: You can easily find state run and private buses to reach all parts of Gujarat with ease.