Aurangabad Tourism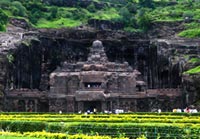 Known for its grand history mirroring in its grandest monuments, Aurangabad in Maharashtra remains a dream of every history lover. The city is renowned for being the land of Ajanta & Ellora. It was once the capital of Mughal Emperor Aurangzeb and thus, narrates numerous stories of the bygone era. The city's rustic charm is quite prominent and its architectural brilliance catches the attention of the world around it.
Places to Visit in Aurangabad:
Ajanta Caves
Ajanta Caves have earned Aurangabad a gigantic popularity around the world. These are a group of around 30 Buddhist caves dating back to the 2nd century. The ancient architecture of this UNESCO World Heritage Site is beyond imagination with some of the most astonishing looking murals, paintings and carvings. The caves depict the cultures and traditions of the past and remain a not to be missed attraction here.
Ellora Caves
Another spectacular group of caves is Ellora Caves located around 29km from the city centre. These caves were raised by the Rashtrakuta dynasty and Yadav group. Ellora Caves flaunt impressive Buddhist and Jain architecture and symbolize peace and brotherhood. Here you can spot numerous monasteries with detailed and intricate carvings. ?Some of the most popular of Ellora Caves include Vishwakarma, Dashavatara, Kailasanatha Temple, Rameshvara and IndraSabha.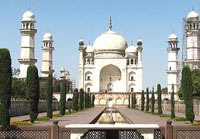 Bibi Ka Maqbara
Bibi Ka Maqbara gives a tough competition to Taj Mahal. Though it is not as grand as Taj Mahal, it is also an emblem of love built by Mughal emperor Aurangzeb for his wife DilrasBanu Begum. This mausoleum was raised between 1651 and 1661. The structure has been adorned with exquisite marbles and intricate designs which make it look jaw dropping.
Daulatabad Fort
One of the most undefeatable forts in India, Daulatabad Fort is located around 11km north-west of Aurangabad. Perched on the top of a conical hill, Daulatabad Fort takes you back into history. You cross a narrow bridge to enter into the fort where you explore its jaw-dropping architecture adorning its three layers of defensive walls. These walls protected the fort during hard times and maintain their strength till date. Chand Minar, ChiniMahal and Baradari are three must explored parts of the fort.
Grishneshwar Temple
A religious sight of Hindus, Grishneshwar Temple enjoys close proximity with the historic Ellora Caves. It is popular for being the 12th 'Jyotirlinga' on earth. The pre-historical architectural style of the temple is impressive and it exhibits carvings of many Hindu Gods and Goddesses. ?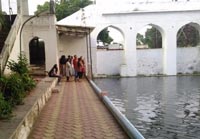 Panchakki
Panchakki, also known as water mill, is an architectural brilliance belonging to the medieval era. This monument was made to generate energy via water by bringing down the water from a spring located on a mountain.? ?The main complex is attached to the Dargah of Baba Shah Musafir. Panchakki offers heart warming vistas of the Kham river and remains a must visit site for travellers on holidays to Aurangabad.
How to reach:
By Air: Chikkalthana Airport links Aurangabad to other major cities of the country.
By Train: Aurangabad (AWB), Rotegaon (RGO) and Chikalthan (CTH) three railway stations to visit the city.
By Road
: Regular buses to Aurangabad are also available from all parts of India.