Kohima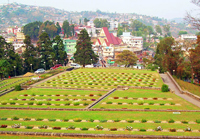 The hilly capital of Nagaland, Kohima rests at a height of 1500 meters with unmatched nature and charming landscapes. Here you can unwind amidst lush green hills and verdant forests. It is a great place for adventure lovers as it lets you partake in trekking, camping as well as hiking.
Standing at a height of 3048 meters, Japfu Peak is the second highest peak in Nagaland. It is a heaven for trekkers and lures travellers from all over the country. From here one can cherish bird's eye views of the surroundings and click some remarkable pictures of nature. Here you can spot the giant Rhododendron tree, one of the tallest tress on the planet with a height of 130 ft. Enjoy the untouched wilderness of nature at the Dzukou valley blanketed with exotic wild flowers. The valley looks flamboyant with flowers like euphorbia, rhododendrons, aconitum, and lilies. Spot beautifully flowing streams here which usually freeze during winter months. Kohima also houses the Kohima War Cemetery built in the memory of 1,420 soldiers who lost their lives during the Second World War. For taking a leisurely walk amidst rare species of plants, birds and animals, the Intanki Wildlife Sanctuary of Kohima is ideal. The Sanctuary is blessed with emerald forest and mountains. Bird watchers love to visit here as it is home to some rare species of birds like hornbill, Green Pigeon, etc. For a rustic experience, nothing can be as calming as visiting the Khonoma Village, 20 km away from Kohima. This is the village of Angami tribe who beautifully carries its heritage and cultural legacy till date. Here you can find many memorials dedicated to fighters who shed their blood for the betterment of the village. Scenic beauty of this village is awe-inspiring and it underlines the old glory of Nagaland.
How to Reach
By Air: Kohima does not have its own airport and the closest airport to the city is Dimapur Aiport.
By Rail: Kohima does not have a railway station as well and the closest railhead is in Dimapur.
By Road: Travelling to Kohima via road is easy from nearby cities by taking bus services or hiring taxis.