Imphal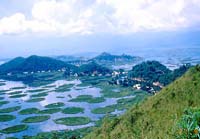 Imphal is all about emerald terrains, rambling forests, serene riverside and bright Manipuri culture. This capital city of Manipur remains one of the most beautiful north-eastern cities where you can meditate to the fullest. The beauty of Imphal leaves travellers speechless. Here you can hear many traditional and tribal songs being sung by the jovial locals who take pride in their cultures.
Most of the places to visit in Imphal are associated with nature. Loktak Lake here is the largest freshwater lake of the northeast region. It has many small and big islands floating over the surface and it remains the only floating lake in the world. Kangla Fort is another must visit attraction of the city which symbolizes Manipur's glory. The fort dates back to 33 AD and holds great archaeological, religious and historical significance. Shaheed Minar of Imphal is an 11 m tall tower located in the heart of the Bir Tirkendrajit Park.? The tower has been built in the memory of those who died while fighting against the British in the Meitei Revolt in 1891. Another place of great historical significance in Imphal is Red Hill Lokpaching on Tiddim Road. This is the location where British and Japanese armies fought during World War II. The battle started on 20th May, 1944 and lasted for nine days.
Manipur Zoological Garden is also visited by many due to 400 common and rare species of animals and birds found here. Here you can spot Eld's Deer, Slow Loris, Himalayan Bear, Python, etc. apart from a rare bird species called Nongin.
Other popular places to visit in Imphal include Shri Govindjee Temple, INA Museum, Manipur State Museum, Samban Lei Sekpil Garden, etc.
How to Reach
By Air: Imphal International Airport connects direct flights to New Delhi, Kolkata, Guwahati and Agartala. ?
By Rail: Imphal does not have its own railway station. The nearest railway junction is in Dimapur 215 kilometres away.
By Road: Many state-run buses connect Imphal with Aizwal, Dimapur, Itanagar, Kohima, Shillong and Agartala.