Jabalpur Tourism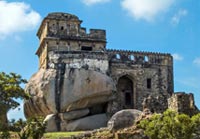 A historically rich city of Madhya Pradesh, Jabalpur is known for its impressive ghats, gushing waterfalls and rich historical and cultural structures. The city is adorned with ample of soaring mountains of marble change forms and the serene river Narmada passing through it. Jabalpur offers you some of the most beautiful views of nature which one needs to see to believe. Nature lovers and romantic souls flock here in abundance to behold its surreal nature. And all this is clubbed with Jabalpur's imperial history.
Places to Visit in Jabalpur:
Dhuandhar Waterfalls
Dhuandhar Falls, situated 30 kms from Jabalpur, remains a must visit attraction here. River Narmada is one of the holiest rivers in India. When it falls from 98 feet, it results into the Dhuandhar Waterfalls. The power of water of this waterfall is so strong that one can see visuals of smoke rising from it. The marble rocks around the waterfall look beautiful, and here one can also enjoy boating.
Marble Rocks at Bhedaghat
Visit the spectacular looking marble rocks along the banks of the holy Narmada River. Watching these magnesium limestone rocks is a beautiful experience. One can access the area by taking a motorboat which starts from Panchvati Ghat. Visit here for a day picnic with your loved ones and have a whale of a time.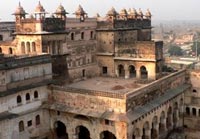 Madan Mahal Fort
Dating back to the 11th century, Madan Mahal Fort is a beautiful exemplar of the historic architectural splendour. It was built by Madan Shah, son of Rani Durgavati. The fort was used as a watch tower during the rule of the queen. From a height of 500 meters, Madan Mahal Fort offers impressive views of surrounding areas.
Balancing Rocks
You will also come across the Balancing Rock on your way to the fort. This huge rock rests on a small base. The fact that the rock didn't more even after an earthquake of 6.5 magnitudes impresses everyone visiting here. According to Geologists, this is a single rock and with time it looks life two.
Dumna Nature Reserve
Sprawling over an area of 1058 hectares, Dumna Nature Reserve is a spectacular eco tourism site where nature and wildlife lovers can have a great time.? Here you can spot numerous animals, including jackal, spotted deer, leopard, wild boar and porcupine.? Bird watchers can take the pleasure of spotting numerous migratory birds chirping happily in their natural environment. For whole family fun, there are numerous other options to try, including a children's park, a restaurant and a fishing platform.
How to reach:
By Air: Jabalpur Dumna Airport connects the city with all other parts of India.
By Train: Jabalpur Railway Station rests on Mumbai-Howrah-via Allahabad main line and connects the city with Delhi, Nagpur, Kolkata, Mumbai, and all other major cities.
By Road: Jabalpur enjoys great connectivity with major Indian cities like Nagpur, Indore, Bhopal, Pune, etc.