Madurai City Tour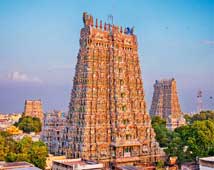 Madurai, probably over 2500 years old, is the oldest city in Tamil Nadu. Its origin and name emerge from a misty and lovely legend. In a forest near a lotus pond, Indra, King of Gods, Worshipped Lord Siva as a Swayambu Lingam.
At this hallowed spot, the Pandyan monarch Kulasekhara built a great temple and clearing the forest, he created a lotus- shaped city around the temple.
On the day the city was to be named, Lord Siva appeared at the ceremony. As he blessed the land and its people, divine nectar (Mathuram) was showered on the city from his matted locks.
The city was henceforth known as Madhurapuri. Madhurapuri grew and prospered to become the capital of the Pandyan Kingdom.
It is referred to in the Ramayana and Kautily's Arthashastra. Megasthenes (302 BC), pliny (77AD) and Ptolemy (140 AD) wrote of "Madura, the kingdom of the Pandian".
Macro polo visited Madurai in 1293 AD and lbn Batuta in 1333 AD. Madurai lies on the banks of the River Vaigai. The temple and the old city are on the southern bank, while modern Madurai with its textile mills, engineering industries and large university sprawls around.
Meenakshi Sundareswarar Temple
Meenakshi Sundareswarar Temple in Madurai is a historic Hindu temple steeped in sheer architectural beauty. Its architectural brilliance majestically reflects in its structures. Dedicated to Goddess Meenakshi(an incarnation of goddess Parvati) and his consort Lord Shiva, the temple is the sparkling gem of Madurai, Tamil Nadu. Tourists from across the globe come here to see this beautiful temple. Around 10,000 tourists visit the temple every day.
The huge temple complex houses several shrines dedicated to the Hindu deities. The temple has 14 arresting Gopurams (towers) and the most beautiful among them are the golden gopurams for the main deities. The exquisite sculptures painted in many colours is the striking feature of the gopurams. The temple boasts of around 33 million carvings. The thousand pillar hall of the temple is one of its main attraction. All the pillars in this hall are magnificently carved, depicting the legends associated with the Lord and the Goddess.
Kalyana Mandapa, the hall in Meenakshi Sundareswarar Temple serve as a venue for the famous Meenakshi Thirukalyanam festival. During the festival the marriage of? Lord Shiva and Goddess Parvati is observed. This heavenly ceremony is celebrated with great fervour and devotion in the temple.