Assam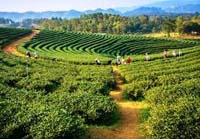 Assam is a paradise for nature lovers. This prehistoric leviathan stretches along the Brahmaputra valley and boasts everything from tribal traditions to far-stretched tea gardens and riverine islands to abundant wildlife. It is one North-eastern state that lets you savour the taste of mouth-watering food items each of which tells a story about its history and cultures.
Places to Visit
Assam is blessed with some of the most gorgeous cities which can instantly make you fall in love with this paradise. Visit Guwahati known for its ancient temples, impressive wildlife sanctuaries, scenic beauty of Brahmaputra and unmatched cultures. The Kaziranga National Park is known for being home to one horned rhinoceros apart from many other animals and birds. Also, visit the Manas National Park where numerous animals like elephants, bison, langur, sambar and chital dwell. The Kamakhya Temple and Umananda Temple of Guwahati bestow ample of serenity. Jorhat is city in Assam bringing you a melange of history,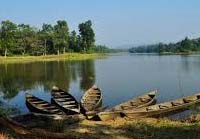 nature, heritage and cultures. Here you can visit Majuli Island, the largest riverine island in the world. Gibbon Wildlife Sanctuary also remains popular for being home to some rarely seen wild animals. Spend some tranquil moments at the Kakochang Waterfalls which look splendid with so much natural beauty. Jorhat also has the Tocklai Tea Research Centre which is one of the world's largest as well as oldest tea research stations. Tezpur is another city of Assam surrounded by beautiful hills. The Nameri National Park here boasts of dense elephant population. Bamuni Hills also catch attention of all with its sculptural ruins belonging to 9th and 10th centuries. Also, do not miss visiting Digboi where attractions like Digboi Oil Refinery, Dibru Saikhowa Wildlife Sanctuary and War Cemetry await you.
Festivals
Assam has a beautiful mix of some colourful festivals which reflect its cultures, traditions and history. Bihu festival is the most significant one that marks the beginning of the agricultural season. People offer their first crop towards the God during the festival and perform traditional dance forms. Ambubashi Mela also brings people from all over the country to Assam. It is hosted in the Kamakhya Devi temple in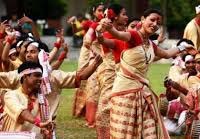 Guwahati and sees devotees performing various rituals to please the deity. The festival of Majuli also holds great importance among ethnic and cultural groups of Assam who flock together to showcase their culture through music, dance, food and handicrafts. If you are a devotee of tea then nothing can be as satisfying for you as being a part of the Tea Festival of Assam. The festival lasts for three days and lets you savour the taste of aromatic tea in different flavours. Ras Lila in Majuli, Karam Puja, Baishagu Festival, etc. are other popular festivals of Assam.
Food
Food binds the people of together. The state offers a wide variety of indigenous food, including mouth-watering pork, chicken and mutton dishes. Khaar is a popular Assamese cuisine with raw papaya, pulses, taro and a non-vegetarian ingredient. Duck meat cooked in lentil, sesame and pumpkin is extremely popular among locals. Maasor tenga, a tangy fish curry, is loved by all for its delectable flavours. Aloo Pitika is a common dish cooked in every household of the state. The dish is made with mashed potatoes cooked in spices. For those having sweet tooth, Pitha is a must try snack time.
Shopping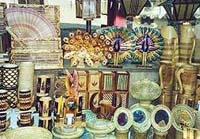 Assam is a paradise for shoppers. Traditional craftsmanship skills can be seen in all handicrafts sold here, including tablemats, cushion covers, shawls, and napkins. One can also buy wood crafted and bamboo/cane articles which make great souvenirs. Do not forget to buy flavoursome tea leaves from one of the tea estates of Assam. Assamese jewellery is highly popular among travellers as it looks unique and exceptional. ?
How to Reach
By Air: Guwahati's Lokapriya Gopinath Bordoloi International Airport is closest to Assam.
By Rail: Assam has 259 railway stations and thus rail connectivity is great here.
By Road: Travellers can also find numerous state-owned bus services connecting Assam with adjoining states.