Dharamshala Tour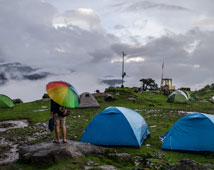 Dharamshala is the district hqr. of Kangra district. This is a hill station lying on the spur of the Dhauladhar range about 18kms. north east of Kangra town. Hill station is wooded with oak and conifer trees and snow capped mountains enfold three sides of the town while the valley stretches in front.
The snow line is perhaps more easily accessible at Dharamshala than at any other hill resort and it is possible to trek to snow point after an early morning's start.
Dharamsala popularly known as the Scotland of India, is one of the 80 hill stations established by the British between 1815 and 1847 and has one of the most spectacular settings for a hill station is closest to the perennial snowline and is built along a spur of the Dhaula Dhar range.
The town varies in height from 1250 meters at the bazaar to 1768 metres at McLeodganj. Dharamsala is surrounded by deodar forests and provides a superb view of the great granite mountains that almost over chang the town.
About 10 kms. away from Dharamsala is McLeodganj which has a strong Tibetan influence. Monks in deep red are a common sight in this town and it is the headquarters of the Dalai Lama.
The Dalai Lama settled here after his flight across the Himalayas following the Chinese invasion of Tibet in oct. 1959 The Tibetan community has tended to take over the hospitality business and provide cheap and clean hotels and small friendly restaurants, The following words might help you in having an exchange in Tibetan.
Tourist Places in Dharamshala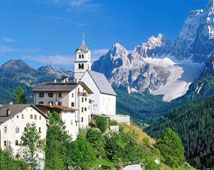 The Namgyal Monastery with the Centre of Tibetan Studies, is known as little Lhasa and is a major attraction in McLeodganj This cathedral opposite the DakauLama's residence, resembles the center of the one in Lhasa and is a 5minute walk from the main bazaar.
It contains large gilded bronzes of Buddha, Avalokitesvara and Padmasam-bhava.Dalai Lamas often leads the prayers when he is in residence and if you sign up at the secutity office an audience with him is possible. The othert major attraction is the Church of St. John in -the wilderness which has attractive stained glass windows.
Lord Elgin, one of the few viceroys of British occupied India, to die in office, is buried here, according to his last wish, as it reminded him of his beloved native Scotland.
The Nechung Mmonastery in Lgangchen Kyishobn has Tibetan libnrary lwith a good rang of books, magazines & photo-copying facilities and a museum.The central Tibetan Administration Offices are located here and you can also attend lectures & classes on Tibetan culture and Buddhism.