Varanasi (Banaras) Tour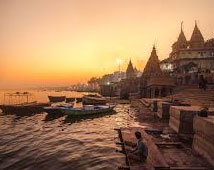 Varanasi, or Banaras, (also known as Kashi) is one of the oldest living cities in the world. Varanasi`s Prominence in Hindu mythology is virtually unrivalled. Mark Twain, the English author and literateur, who was enthralled by the legend and sanctity of Banaras, once wrote : "Banaras is older than history, older than tradition, older even than legend and looks twice as old as all of them put together".
According to the 'Vamana Purana', the Varuna and Assi rivers originated from the body of the primordial Person at the beginning of time itself. The tract of land lying between them is believed to be 'Varanasi', the holiest of all pilgrimages.
The word 'Kashi' originated from the word 'Kas' which means to shine. Steeped in tradition and mythological legacy, Kashi is the 'orignal ground ' created by Shiva and parvati, upon which they stood At the beginning of time.
Varanasi is the microcosm of Hinduism, a city of traditional classical culture, Glorified by myth and legend and sanctified by religion, it has always attracted a larg number of pilgrims And worshippers from time immemorial.To be in Varanasi is an experience in itself…. An experience in Self –discovery… an ethereal oneness of the body and soul.
To every visitor; varanasi offers a breathtaking experience. The rays of the dawn shimmering across the ganges… the high-banks ; the temples and shrines along the banks bathed in a golden hue …soul stirring hymns and mantras alongwith the fragrance of incense filling the air…and the refreshing dip in the holy waters gently splashing at the Ghats. Varanasi – The land where experience and discovery reach the ultimate bliss.
Varanasi is also renowned for its rich tapestry of music, arts, crafts and education. Some of the world – renowned exponents India has produced in these fields were schooled in Varanasi's cultural ethos.
Luminaries apart, Varanasi abounds in the art of silk weaving, an exotic work of art which manifests itself in precious Banarasi silk sarees and silk brocades which are cherished as collector's items across the world today.
Tourist Places in Varanasi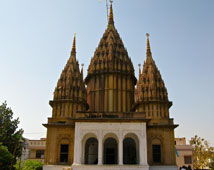 Shri Kashi Vishwanath Mandir
Also known as the Golden Temple, it is dedicated to Lord shiva, the presiding deity of the city. Varanasi is Said to be the point at which the first jyotirlinga, the fiery pillar of light by which shiva manifested has supremacy over others gods, broke through the Earth's crust and flared towards the heavens. More than the Gaths and even the Ganga, the Shivalinga installed in the temple remains the devotional focus of Varanasi.
Central Institute Of Higher Tibetan Studies
The only institute of its kind in the world, imprating education in the Tibetan language, it was Est. by the Dalai Lama in 1971. Presently located at Sarnath, the institute has a rare collection of Buddhist texts, Tibetan manuscripts and other journals
Barat Kala Bhawan, B.H.U
Started in 1950 as a university museum, Bharat Kala Bhawan in famous for its unique collection of miniature paintings. It has a rich collection of Rajasthani paintings, Pichhawai's, pahari painting, Nepalese & Tibetan Thankas, Company paintings as well as paintings of contemporary artists, illustrated Mrigavati, Kalpa Sutra, Chora-Panchasika, Laura-Chanda, Shah-nama and some pages of Humza-nama Are the proud possessions of this museum.
Maharaja Banaras Vidya Mandir Museum, Ramnager
Ramnager fort was originally built by Maharaja Balwant Singh (1740-70 AD.) The Banaras Vidya Mandir Museum is housed in the Ramnager fort itself. The museum collection mainly Comprises of textiles, pieces of decorative arts, arms & armours, utilitarian objects, means of transport-old bagghis, palkis & haudasivories, furniture & manuscripts.
Banaras Hindu University
The Banaras Hindu University was established in 1916 by special efforts of Nationalist Pandit Madan Mohan Malviya. Today it has grown into one of the biggest universities of India.
Kashi Vidya Peeth
The Kashi Vidyapeeth was set up in 1920 by Babu Shiv Prasad Gupta to provide alternate education arrangement discarding that of the British. It soon became a centre of natoinal education with Hindi as the medium of instruction. Acharya Narendradev, Babu Sampurnanand, Babu Sriprakash & many more Luminaries of the time have been associated with this institute.
Museums & Arts Galleries
Archaeological musuem Sarnath open 09:30 am.- 5 pm. Friday clossed. Ramnager fort musuem, open 10 am.-5 pm. Clossed on Friday. Bharat Kala Bhawan B.H.U. open 10:30 am.- 4 pm. Clossed on Sundays & university holidays. Archaeological musuem, Sampurnanand Sanskrit University open 10 am. – 5 pm. Clossed on Sunday & university holidays.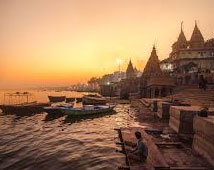 River Front (Ghats)
The spectacular 4 km sweep of the Ghats is unique sight, best viewed at dawn, in that "soft first light" when the river and Ghats have a timeless appeal. Life is almost panoramic detail unfolds here from dawn to dusk as a steady stream of devotees-swelling to thousands on auspicious days –perform rituals by the Ganga. The Ghats are best approached by Dashashwamedha ghat, where boats are available on hire.

Excursions of Varanasi
Sarnath
10 km. from Varanasi is the site where Lord Buddha preached his first sermon "Maha- Dharma-Chakra Pravartan" (in Buddhist terminology, 'turned the wheel of the law') after his enlightenment. Sarnath is one of the richest in Buddhist antiquities ranging in date from the times of Ashoka downto the 12th century A.D Ashoka built here the Dharmarajika Stupa and near it erected a pillar surmounted by the magnificent capital of four adorsed Lions, which today forms the national emblem of India.
Among other structures at Sarnath are the ruins of the brick temple representing the Mula- gandha kuti, ruins of stupas and monasteries. Among the more imposing ones is the Dhamekh Stupa, adorned with delicate floral carvings in the lower part, the Chaukhandi Stupa and Mahabodhi Society's Mulgandha Kuti Vihar Temple. Sarnath has also yielded an extremely rich collection of Buddhist sculptures comprising of numerous Buddha and Bodhisatva images which can be seen at Archaeological Museum, Sarnath.
Ramnager
14 km. from Varanasi .The fortat Ramnager houses a museum displaying the Royal collection which includes vintage Cars, Royal palkies, an armoury of swords and old guns, ivory work and antique clocks. The Durga Temple and Chhinnamastika Temple are also Located at Ramnegar.
Vindhyachal
80 km. One of the shakitipeeths, Vindhyavasini Devi Temple, Ashtabhuja and Kalikhoh are the major attraction.
Chunar Fort
The Chunar fort is situated 40 km. from Varanasi. Saint Bhartrihari took live Samadhi inside the fort. The historical fort at Chunar is ascribed to one of the greatest warrior – rulers, sher shah suri. Sonwa Mandap, Sun clock and a huge well are some of the attractions inside the fort. The fort offers a splendid view of the river Ganga. There is a PWD Rest House for overnight stay.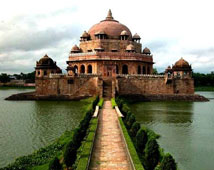 Kaushambi
185 km. from Varanasi. This anicent city is ascribed to the Pandav brother of Mahabharat. The ruin of an old gigantic fort are testimony to the city's antiquity. Lord Buddha visited Kaushambi in the 6th and 9th year after his enlightenment, giving several sermons and discourses and elevating it to a great centre of Buddhism
Chandraprabha Wildlife Sanctuary
70 km, Varanasi are the forests of Chandrapha. These forests nestle within them the Rajdari and Devdari waterfalls. A beautiful secluded place for a relaxed outing or a picnic.
Kaimoor Wildlife Sanctuary
130 km. from Varanasi. Spread over an area of 500 sq. km., the Sanctuary has a veriety of wildlife. The Mukha waterfall is a tourist attraction.
Jaunpur
Jaunpur has the pride of being the capital of the independent Sharqi State, the rulers of which were great patrons of art and architecture. The city still boasts of its rich cultural past. Important monuments worth visiting are the Atala mosque built in 1408, Jama Masjid, the Lal Darwaza Masjid, Khalis Mukhlis Ki Masjid, the Shahi Bridge and the tombs of Sharqui Sultans. The ancient temple of Shitla Chowkiya Dham, Trilochan Mahadev temple and the Yamadagni Ashram are also much revered places for Hindu pilgrims.
How to Reach Varanasi
By Air: Indian Airlines flies to Babatpur airport which is 22 km. from Varanasi and 30 km. from Sarnath There is a. direct, daily flight connection between Varanasi and New Delhi. It also connects Varanasi to Delhi, Agra,. Khajuraho, Calcutta, Mumbai, Lucknow and Bhuvaneshwar. For travel reservations contact Indian Airlines.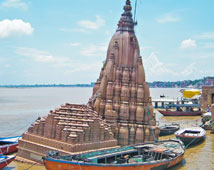 By Train: Varanasi is an important and major rail junction. The city is served by trains from all metros and major cities across the country. New Delhi, mumbai, Calcutta, Chennai, Gwalior, Meerut, Indore, Guwahati, Allahbad, Lucknow, Dehradun… the city has direct rail connections. Varanasi Cantt Railway Station Enquiry number 135. Some important trains from Varanasi station are Kashi Vishwanath Express (Varanasi-Delhi), Shramjivi Express (Patna- Varanasi-Delhi), Farakka Express (MaldaTown - Varanasi - Bhiwani ) , Saryu - Yamuna Express , (Muzzafarpur - Varanasi - delhi), Mahanagri Express (Varanasi-Mumbai), Pawan Express (Varanasi-Mumbai), Sabermati Express (Varanasi-Ahamedabad), Ganga-Kaveri Express (Varanasi-Chennai), Purva Express (Howrah-Varanasi-Delhi), Himgiri Express (Jammu-Varanasi-Howrah), Siyaldah Express (Varanasi-Jammu Tawi), Marudhar Express (Varanasi / Agra /Jaipur).
From Mughal Sarai Station: (16 Km. from Varanasi) Train from Mughal Sarai Station are Rajdhani Express (Howrah – Mughal Sarai- Delhi), Toofan Express (Howrah- Mughal Sarai- Delhi), North East Super Fast Express (Delhi –Mughal Sarai-Guwahati), Magadh Express (Delhi- Mughal Sarai – Patna).
By Road: Varanasi, on (National Highway) NH2 from Calcutta to Delhi, NH7 to Kanya Kumari and NH29 to GoraKhpur is connected literally to the rest of the country by good motorable, all – weather roads. Some important road distances are: Agra 565 km., Allahabad 128 km., Bhopal 791 km., Bodhgaya 240 km., Kanpur 330 km., Khajuraho 405 km., Lucknow 286 km., patna 246 km., Sarnath 10 km., Lumbini (Napal) 386 km., Kushi Nagar 250 km. (via Gorkhpur), UPSRTC Bus Stand, Sher Shah Suri Marg, Golgadda Bus Stand.