Gulmarg Tourism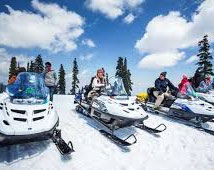 Gulmarg is surrounded by dense forests of tall conifers ,Gulmarg is known for unparalled beauty and is rated as one of the matchless tourist spots of the world.It is famous for Golf hikes and boasts of a beautiful highland golf course. It is premier resort for winter sports in the country.The meadow of Flowers is a world famous tourist spot in the Baramulla Distt of Kashmir. The altitude of Gulmarg is 2730 meters.
Gulmarg's legendary beauty, prime location and proximity to Srinagar naturally make it one of the premier hill resorts in the country. Originally called 'Gaurimarg' by shepherds, its present name was given in the 16th century by Sultan Yusuf Shah, who was inspired by the sight of its grassy slopes emblazoned with wild flowers.
Gulmarg was a favourite haunt of Emperor Jehangir who once collected 21 different varieties of flowers from here. Today Gulmarg is not merely a mountain resort of exceptional beauty- it also has the highest green golf course in the world, at an altitude of 2,650 m, and is the country's premier ski resort in the winter.
The journey to Gulmarg is half the enchantment of reaching there roads bordered by rigid avenues of poplar give over to flat expanses of rice fields interspersed with picturesque villages. Depending on the season, nature's colours could be the translucent green of spring, summer's rich emerald, or autumn's golden hues, when scarlet chillies festoon windows of village homes. After Tangmarg, the climb to Gulmarg begins through fir-covered hillsides.
At one point, known simply as View Point, travellers generally stop their vehicles for a few minutes and look out a spectacle of snow-covered mountains, almost within touching distance.
How to Reach Gulmarg
Gulmarg is in Baramula Distt and is 57Kms from Srinagar District .The nearest Airport in Badgam Distt.This Airport is connected with major cities of country. The nearest Rail Head is at Jammu . The journey from Srinagar to Gulmarg takes approx. 2 hours in bus and may take short time by chartered conveyance. The road to gulmarg is very beautiful and is lined with poplar trees all through. All sorts of transport is available to Gulmarg from Srinagar bus stand at Batmallo and from various tour and travel opeartors at the prices fixed.
Where to Stay in Gulmarg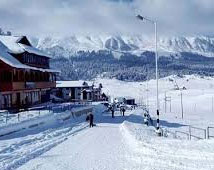 Gulmarg boasts of a number of Hotels of various standards which offer good accomodation and meals. Hotels of International standards are also available. JKTDC has huts on the offer at Gulmarg and all these properties require advance booking from Srinagar when the season is on. Assistance for booking accomodation can be had from the booking manager at Tourist reception centre Srinagar. The accomodation available there suits all budgets.
Recreational Activities in Gulmarg
Gulmarg offers a beautiful Golf Course where equipment is also available on hire.
A Cable Car(Gandola) is also installed which is great hit with tourists and it takes tourists upto Kongdori.
Trek to Alpather Lake can be undertaken which is lake 13 Kms away from Gulamrg. This lake remains frozen even in June.
There is another spot called Khilanmarg which offers unparalled view of the Himalayan peaks.
The famous shrine of Baba Reshi is also located near Gul Marg noted muslim saint who is revered by all faiths.
Gulmarg-Khilanmarg-Apharwat-Alpather is one of the important trekking routes.