Jharkhand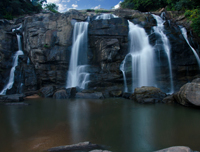 'The Land of Forests', Jharkhand impresses the world with its hills, mountains, forests, and waterfalls. The state has a rich history and abundant natural beauty which one needs to see to believe. Jharkhand is also known for its tribal population which brings in their own cultures and history to this place.
Places to Visit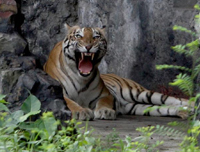 Jharkhand has an endless list of places to visit. Explore Ranchi which is rightly known as the City of Waterfalls with Hundru Falls, Dassam Falls, Jonha Falls, Panch Gagh Falls, etc. Spend some time enjoying the sights of nature all around at Birsa Zoological Park. Jamshedpur, 'The Steel City of India', is the biggest city of Jharkhand. The city brings a perfect contrast of nature and man-made wonders. Do keep Dalma Hills, Jubilee Park, Jubilee Lake and Jayanti Sarovar in your itinerary during your trip to Jamshedpur. When in Hazaribagh, places like Canary Hill, Hazaribagh Wildlife Sanctuary, Hazaribagh National Park, Suryakund and Rajarappa temple remain a must visit. Spirituality seekers can visit Deoghar dotted with numerous Hindu temples. Sahibganj is a serene escape in Jharkhand where travellers can indulge in sightseeing, photography as well as trekking. The city enjoys enjoyable weather and exquisite surroundings. Other popular cities of Jharkhand which surely deserve a visit are Dhanbad, Bokaro, Netarhat, Palamu, etc.
Festivals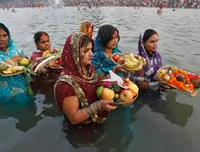 The locals of Jharkhand are deeply devoted to their festivals. It shows their cultural richness. The state celebrates many tribal festivals due to diverse tribes residing here. Kunda Mela in Pratappur is a major fair of the state marked by the sale of cattle. Chatra Mela is another significant cattle fair celebrated during Durga Puja. One can also witness Kundri Mela (held on Kartik purnima), Kolhaiya Mela (held on Magh Basant panchami), Tutilawa Mela (held on Falgun purnima), Lawalong Mela (held at the time of Aghan purnima), Belqada Mela (held in Baisakh purnima), Sangharo Mela (held in Sawan Purnima), etc. to understand the richness of this state.
Food
Jharkhand is a state of mouth-watering delicacies. The cuisine of Jharkhand is very similar to that of Bihar. Litti Chokha is a popular snack savoured by the locals. Pittha is popular in West Bengal and Orissa. Sattu is a common dish made in every household with roasted chickpea flour. Dhuska is also a popular breakfast item of the state prepared from rice and lentil batter. Those with sweet tooth must try Thekua made of whole-meal flour, jaggery and ghee. Til Barfi is another delectable dessert which is specially made during the Makar Sankranti.
Shopping
A shopping experience in Jharkhand tells you a lot about its skilled artisans. It is a paradise of tribal handicrafts made of Wood craft, Bamboo works, Metal work, Stone carving, etc. Paitkar paintings were on the verge of extinction when the state government made efforts to promote this rare art.? Markets of Ranchi and Bokaro brim with locals and travellers.
How to Reach
Air : Ranchi Airport is well connected with Delhi, Mumbai, Kolkata and Patna.
Rail : Major railheads of the state are in Ranchi, Jamshedpur, Bokaro, Dhanbad and Giridih.
Road : Travellers can easily find Government and privately operated buses from neighbouring states.