Manali Tour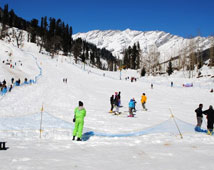 40 kms. away from Kulu to the north, Manali is situated near the end of the valley on the National Highway leading to Leh. The landscape here is breath taking. One sees well-defined snow capped peaks, the Beas river with its clear water meanders through the town. On the other side are deodar and pine trees, tiny fields and fruit orchards. It is an excellent place for a holiday, a favorite resort for trekkers to Lahaul, Spiti, Kinnaur, Leh and Zanskar regions in Kashmir valley. It is known as the SWITZERLAND OF INDIA.
One day Varvasvata, the seventh incarnation of Manu found a tiny fish in his bathing water. The fish told him to look after it with devotion for one day it would do him a great service. The seventh Manu carded for the fish till day it grew so huge that he released it into the sea.
Before departing the fish warned Manu of an impending deluge when the entire world would be submerged and bade him to build a sea worthy ark.
When the flood came, Varvasvata and seven sages were towed to safety by Matsya the fish is regarded as first avatara of Lord Visnu. As the water subsided the seventh Manu's ark came to the rest of a hillside and the place was named Manali (2050m) after him.
As the earth slowly dried, here across a place of breath taking natural beauty which was only appropriate for it was at Manali that life began again. Today this legendary cradle of all human kind is a prime holiday destination.
There are high mountain surrounded by silent snows and deep boulder strew gorges. There are thick forest full of cool breezes and bird songs. There are fields of wild flowers small picturesque and fruit laden orchards.
Tourist Places in Manali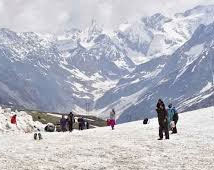 Heli Skiing
For high mountain thrills perhaps nothing can surpass the magic of heli- skiing. The sport is available in the area abound by the Hanuman Tibba, Rohtang Pass, Deo Tibba and Chanderkhani Pass near Manali.
Hidimba Devi Temple
Hadimba or Dhungiri temple in Manali is one of the most important temples in the region. This four story wooden temple is located in the middle of a forest called the Dhungiri Van Vihar.
Mountaineering
Himachal Pradesh has some challenging peaks and each year expeditions are organised by the Mountaineering Institute at Manali. The Mountaineering Institute has regional centres at Dharamsala, Bharmour and Jispa, which organise adventure courses as well.
Gadhan Thekchoking Gompa
This Gompa dominates the Tibetan area around the bottom of the Mall in Manali. The Tibetan refugees built the Gompa in the late 1960's. The Gompa is covered with brightly coloured frescoes and a mid size Buddhist statute. It also carries a list of the martyrs killed in occupation of Tibet of 1987 to 1989.
Gulaba Camp
20-km from Manali, is this beautiful place famous for sightseeing, picnic and photography.
Malana Valley
In the valleys of Kullu and Manali below Chanderkhani Pass, situated at an altitude of 2,76m is a little hub of hundred houses. The village, which consists of 1,000 tribals, has an immaculate system of self-governance.
Manali Sanctuary
This sanctuary is located in District Kullu's nearest town, Manali. The area of this sanctuary is 3,180 hectares. The sanctuary wasnotified on 26th February 1954, under the Punjab Birds and Wild Animals Protection Act, 1933.
Mountaineering Institute
The Mountaineering Institute located at Manali provides training facilities for basic and advance climbing both for Indian nationals and foreigners. This institute also conducts other adventurous sports activities like high altitude trekking, minor mountaineering, rock-climbing, skiing, and high altitude rescue and relief courses. The institute has sufficient lodging and boarding arrangements and equipment can be hired for trekking purposes.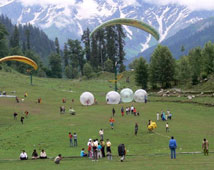 Naggar
Taken as an excursion from Kullu or Manali, Nagar also known as Naggar, is a very lovely village set on a hill surrounded by forests. Naggar was the capital of Kullu valley in the 16th century and the monuments in the region are witnesses to the glory it had once lived in.
Nehru Kund
It is a spring of clear, cold water, named after the late Prime Minister Jawaharlal Nehru and is 6-km from Manali on Keylong road.
Temple Of Manu
Slippery stones paths lead through the old village houses up to the temple of Manu. Manali is named after the sage Manu who meditated when he came in this area.
Tibetan Temple
Tibetans have a base in Manali too. There is a large modern Tibetan temple to the South of the bus stand and also a small handicrafts centre.
Vashisth Village
Famous for the sweeping valley views and sulphurous hot-water springs, the large settlement of Vashisht, formerly known as Bashist, just 3km from Manali, is an amorphous jumble of traditional timber houses and modern concrete cubes, divided by paved courtyards and narrow muddy lanes.
Winter Carnival
Snow continues to play a major part in February's festivals and Himachal's Winter Carnival is also held this month. Ski slopes of Kufri, Manali and Narkanda come to life with adventure seekers competing their way downhill. For daredevils, Manali, as a base camp, offers best opportunity for Heli-Skiing.
Excursions of Manali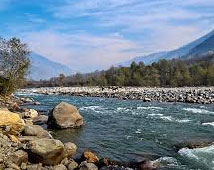 Rohtang Pass (50Km.)
Rohtang Pass is the highest point, 4,112m, on the Manali-Keylong road, 51-km from Manali town. It provides a wide panoramic view of mountains rising far above clouds, which is a sight truly breath-taking.
Arjun Gufa (5Km.)
On the left bank of the Beas, 5-km from Manali near the village of Prini, is the 'Arjun Gufa' or the cave of Arjuna. In here Arjuna practised austerities to get Pashupata Ashtra or weapon from Lord Indra.
Beas Kund (50Km.)
It is the source of river Beas, at the Rohtang Pass and is easily accessible. The great sage, Vyas performed `Tapa' here during the Mahabharat times. The place is still hallowed by the celestial light. It was because of this that the river got the present name of Beas.
Jagatsukh Temple (6Km.)
It is one of the biggest villages in Kullu district. About 6-km from Manali, Jagatsukh is famous for its Shiva temple that is built in "shikhara" style and nearby is the old and interesting Devi Sharvati temple.
Kothi (12Km.)
It is a pretty little village, 12-km from Manali on the Keylong road at the foot of Rohtang Pass. There are very fine views from Kothi, and the Beas River flows through a very deep and narrow gorge at this point. The well-situated Public Works Department (PWD) Resthouse is a popular place for overnight stays. Close to the rest house is an awe-inspiring gorge where Beas enters a chasm about 61m deep and just few metres broad.
Old Manali (3Km.)
The old Manali area is located some 3-km from the present day Manali. The old Manali is covered with guesthouses, which look ancient now, and orchards where the livestock move at will.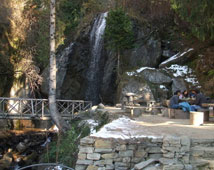 Rahalla Falls (16Km.)
About 16-km from Manali and 4-km away from Kothi, at the start of the climb to the Rohtang Pass, are the beautiful Rahalla Falls at an altitude of 2,501m.
Solang Nullah (14Km.)
14-km northwest of Manali in the Solang Valley, this place offers Himachal Pradesh's best ski slopes. The Mountaineering and Allied Sports Institute operates a 300m high ski lift and the month of February is the best month to ski over here. HPTDC runs seven-day package for ski courses with accommodation in the Hotel Rohtang Manaslu in Manali. Courses are also offered by the Mountaineering and Allied Sports Institute and the North Face Ski School.
Vashisth Hot Sulphur Springs (3Km.)
This small village near Manali is famous for its scenic beauty. The village has a temple dedicated to Lord Rama and Vashisth Muni. The village has some hot water springs, which are said to carry medicinal properties. It is a picturesque little place, 3-km out of Manali but on foot the distance is a bit shorter.
How to Reach Manali
The airport at Bhunter is 50 km from Manali where taxis and buses are available. The closest narrow gauge railhead is at jogindernagar, 135 km away. The closest broad gauge rail heads are Chandigarh (310 km) and Ambala (355 km). By road the distance from Delhi via Mandi is 570 km, and from Shimla the distance is 280 km. From Shimla, Chandigarh and Delhi, Himachal Tourism plies luxury buses to Manali.
Rail: Nearest convenient rail head are Chandigarh and Pathankot. Manali can be reached from road from these stations.
Road: Manali is well connected by road with Delhi, Ambala, Chandigarh, Dehradun, Haridwar, Shimla, Dharamsala and Chamba/Dalhousie. Regular buses ply between these stations. It is connected with Leh during July to October.