Hampi City Tour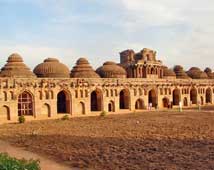 Saint Vidyaranya established the seat of Vijayanagara empire in 1336 A.D, with the help of his devotee disciples Hakka and Bukka. The empire later became famous for its support towards renovation/reconstruction of temples through out India. It also became renowned for re-establishment of Indian culture, its support for music, art and literature.
With the prime purpose of caring for the people and their welfare, this empire stretched physically covering Karnataka, Andhra and Maharashtra and became a by-word for golden rule. HAMPI, the seat of the famed VIJAYANAGARA empire was the capital of the largest empire in post-mogul India, covering several states.
The empire reigned supreme under Krishnadevaraya, the Emperor. The Vijayanagara empire stretched over at least three states - Karnataka, Maharashtra, and Andhra Pradesh. The destruction of Vijayanagar by marauding Moghul invaders was sudden, shocking and absolute. They reduced the city to ruins amid scenes of savage massacre and horrors beggaring description.
Although in ruins today, this capital city once boasted riches known far beyond the shores of India. The ruins of Hampi of the 14th Century lies scattered in about 26 sq. km area, amidst giant boulders and vegetation. Protected by the tempestuous river Tungabhadra in the north and rocky granite ridges on the other three sides, the ruins silently narrate the story of grandeur splendor and fabulous wealth.
The splendid remains of palaces and gateways of the broken city tells a tale of men infinite talent and power of creativity together with his capacity for senseless destruction.
Places to See in Hampi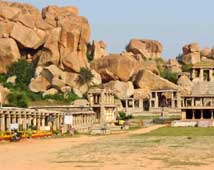 Lotus Mahal
Shaped like a lotus flower from top, this two-story structure has beautiful arc ways set in geometric regularity. It was an air-cooled summer palace of the queen.
Elephant Stables
This huge stable, a beautiful example of Hindu-Muslim style of architecture, housed about 11 elephants in separate compartments.
Pushkarini Tank

Mahanavami Dibba
The foundation of a lion story wooden structure from which the royalty viewed Hampi with pomp, colour and revelry during the Mahanadu festival. This platform has beautiful carvings.
Mustard Ganesh
This is a 9 feet tall single stone statue which is also known as Sasivikalu Ganesha.
Noblemen's Palace
This place was recently discovered and they suspect this was for aristocrats and high-ranking officials.
How to Reach Hampi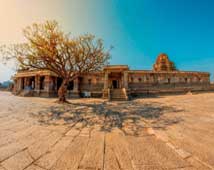 By Air
The nearest airstrip at Tornagallu in Sandur Taluk which is 32 kms. from Hospet. Bangalore based air-charter operator, Taneja Aerospace and Aviation Ltd (TAAL), has launched sightseeing charter flights to Hampi and Mysore in Oct 2002.
The second nearest airport is Bellary(74 kms)
Other convenient airports are at Belgaum (190 kms) and Bangalore(353 kms).
By Train
Hospet is the nearest rail head (13 kms). Hospet is linked by rail to Bangalore, Bijapur,Hubli and Guntakal.
By Road
Hampi is 350 kms from Bangalore. KSRTC Buses ply regularly from Hospet.