Sikkim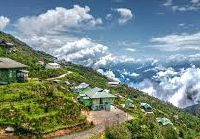 A priceless gem of north eastern part of India, Sikkim is all about getting drenched into seamless nature. Though Sikkim is the second smallest state of India after Goa, its charms are big enough to draw thousands of travellers. Here monasteries of Tibetan Buddhism rub shoulders with Hindu shrines, bringing together a beautiful mix of religions.
Places to Visit
Sikkim offers you a diverse list of places to visit. Start by visiting the Tsomgo Lake located just 38 km from Gangtok. It is a serene escape mixed with adventure at its best. Catch sights of migratory ducks like the Brahmini here. The historic town of Yuksom offers uninterrupted trail to trekkers. Here you can enjoy the historic Norbugang Park apart from the oldest monastery - the Dubdi Gompa. Nathula Pass, connecting India with Tibet, is a dream of adventurers. Located at 4,310 m above sea level, it remains one of the most beautiful stretches here. Also, spend some time at the Pemayangtse Monastery brimming with thousands of colours. It was established in 1705 by Lama Lhatsun Chempo and many monks can be seen practicing here. Rumtek Monastery is another popular monastery built in the 16th century. This is the largest monastery in the state and is home to the community of monks.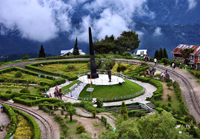 The Biosphere reserve of Kanchendzonga National Park brings to you a mix of flora, including oaks, fir, birch, maple, willow, etc. Here you can spot musk deer, snow leopard, Clouded Leopard, and Himalayan tahr. Though every corner of Sikkim has seamless nature's blessings, Namchi has been extensively blessed with fresh air and snow-capped mountains. Here you can catch views of far stretched tea gardens apart from Khangchendzonga range. Teesta River is also a major highlight in the state which freezes during winter months and looks stunning. Abundance of fauna and flower beds around the lake make it an ideal location to meditate.
Festivals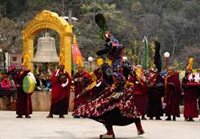 Festivals of Sikkim are as beautiful as the nature sprawling here. They flaunt its kaleidoscopic riot of cultures and age old beliefs. Saga Dawa is a popular festival of the Mahayana Buddhists. The festival sees local Sikkim folk dances portraying three imperative occasions in Buddha's life. Drukpa Teshi is another Buddhist festival when mass-prayers are organised at Deer Park and at Muguthang in North Sikkim. Pang Lhasbsol is one of the most unique festivals of the state in which Mount Kanchendzonga is worshipped. The locals believe that on this day, local gods/ deities themselves witness the event. During the festival masked Lama dances wearing a crown of five skulls and riding a snow lion. Losoong Harvest Festival, marking the end of harvest season, is celebrated at the Phodong monastery, Tsu-La-Khang monastery, and Rumtek monastery. Grand archery contest is organised during the festival in which many locals participate. Losar is another grand festival of Sikkim marking the Tibetan New Year. It brings together all the locals who indulge in meals and merriment.
Food
Sikkimese cuisine says a lot about local cultures. The locals of Sikkim are traditionally rice eaters and serve it with most of their dishes. Momos (Dumplings) is a popular Nepalese cuisine prepared with various stuffing. Thukpa, a noodle soup of Tibetan origin, is cooked in every household. It is made with locally grown vegetables like carrots, bell peppers, spinach, etc. With a spice and tangy flavour, Phagshapa is also loved by all locals. It is strip of pork fat boiled with radishes and dried chillies. Also, savour the taste of Gundruk, a leafy dish that maintains the metabolism of the body.
Shopping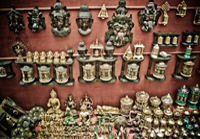 Shopping in Sikkim is a wholesome experience. Tibetan woollen carpets are very popular here which come in intricate designs. Travellers can also buy Choktses which are beautiful small wooden ornate tables with traditional designs. Sikkim is known for intricately carved jewellery in silver and gold. Do not forget to buy fresh variety of tea from Temi Tea Estate in Sikkim. Also, buy Tibetan Thangka paintings which make great souvenirs for your family and friends.?
Gangtok's Old Market, Lall Market, M.G. Road and New Market are major shopping areas of the state. Government emporiums of the state are great to bag local handicrafts at reasonable prices. ?
How to Reach
By Air: The airport nearest to Gangtok is in Bagdogra, West Bengal located 124 kilometres away.
By Rail: The nearest railway station to Gangtok is in New Jalpaiguri in Siliguri.
By Road: Travellers can easily drive to Gangtok from Siliguri, Darjeeling, Kalimpong and Kolkata.