Andaman Nicobar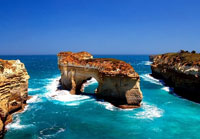 A haven for the worshippers of sun, sea and sand, Andaman Nicobar remains the most popular holiday spot in India. From family vacationers to honeymooners and serenity seekers, Andaman Nicobar is the dream destination of all due to its sunny skies, pristine beaches, clear blue seas and soothing environs. Visit here for a completely unforgettable experience that can treat you with some of the most mind blowing adventure activities under the sea.?
Places to Visit
Andaman Nicobar has endless number of beaches to choose from. Visit Radhanagar Beach in Havelock Island which bagged the title of "Asia's Best Beach" in 2004 by the TIME Magazine. The beach charms all with its turquoise blue waters and silky sand where you can laze around for days.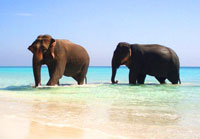 It is a great site for activities like snorkelling and scuba diving. Ross and Smith Island Beach is another serene escape for newlyweds visiting Andaman Nicobar. Travellers must enjoy boat rides on the beautiful shimmering waters of this beach to explore the nature sprawling around. Laxmanpur Beach in Andaman remains on the itinerary of all as it is a private escape away from the crowd. This beach is great for leisure walks along the coastline. If nature excites you to the core, then the Lalaji Bay Beach of Long Island is a spectacular retreat for you. From Long Island jetty, travellers can hire a dunghi to reach this paradise. Walking option is also available for those who wish to savour the sights of mangrove creek. Elephant Beach in Havelock Island is great for the lovers of water activities. Here travellers can take the pleasure of snorkelling, mirror boat rides, diving, swimming, kayaking, etc.
Learn about the secrets of the underwater world by visiting Mahatma Gandhi Marine National Park filled with oceanic biodiversity. The park covers an area of 280 sq km, including 15 islands of mangrove creeks, tropical rainforest and reefs. The park excites travellers with marvellous activities like snorkelling, glass bottom boat rides and scuba diving.
History lovers must visit the Cellular Jail National Memorial in Port Blair to walk down the memory lanes of this place. This is the former British prison where political prisoners were kept in inhumane conditions. The jail takes you to the horrifying and darkest period in Indian history. ?Another astonishing attraction here is Limestone Caves in Baratang Island which look beautiful. To visit here, you need to cross beautiful Tribal reserves and a dense forest.
Festivals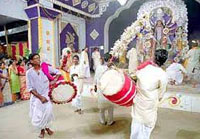 Fairs and Festivals in Andaman and Nicobar Islands show the local cultures and devotion of people towards them. From Durga Puja to Diwali and Onam to Christmas - here all Indian festivals are celebrated with great fervour.? Island Tourism Festival celebrated in Port Blair is an important festival from a tourist's point of view. This 10-day carnival fills vivid colours into the islands with endless exhibitions, dances, songs, and group performances. Travellers can taste the most lip smacking sea food dishes during the festival apart from buying antique items and home decors. The floating restaurant here remains the most fascinating attraction.
Food
Andaman Nicobar Islands are popular for their exquisite sea food delicacies. Here you can try numerous types of sea foods, including prawns, fish, lobsters, etc. Sea food served here is fresh and full of flavours. You can find numerous local food joints dotted along the beaches. The islands also have bars and pubs where you can try cocktails and mocktails along with happening music. Also, do eat loads of fresh fruits like Mangoes, Bananas, Pineapples and Guava found abundantly in the forests here.
Shopping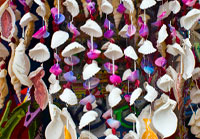 Beaches of Andaman and Nicobar islands are perfect to treat the shopper inside you. The local markets here brim with Coconut carved decoration pieces apart from Ornaments made of shells, handicrafts made from Cane, Sarongs and Hats, Pearl Jewellery, etc. Travellers can shop at genuine prices from Aberdeen Bazaar, Andaman Handicraft Emporium and the Sagarika Government Emporium.
How to Reach
By Air: Veer Savarkar International Airport in Port Blair is connected with all major Indian cities.
By Ship: Travellers can also enjoy a sea journey to Andaman and Nicobar islands by taking a ship from Chennai, Kolkata and Vizag.