Shimla Tour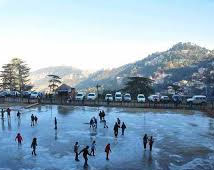 Shimla is the State Capital of Himachal Pradesh, with its population around 1.6 lacs (Shimla town). It was the Summer Capital of India under the British rule. Shimla has witnessed many important historical events, such as the famous Shimla Pact between India & Pakistan, which was signed here. The place is also famous for its natural beauty, architectural buildings, wooden crafts and apples.
The british empire may have ceased to exist, but its echoes linger, on in Shimla (22050. As the summer capital of the British in India, this was the country focus for the better part of every and now, it is state capital of Himachal Prdesh today it has well developed facilities easy accessibility and numerous attractions make it one of India's most popular hill resort.
Placed in the lower ranges of the Himalaya mountains, it is surrounded by pine,deodar, oak and rhododendrom forest. Towards the north lie the now-covered high ranges while the valleys breathe whispering streams and swaying fields.
Within the town are host of splendid colonial edifices quaint cottages and charming and walks. Shimla holds a variety of shopping ,sport and entertainment.
Situated in the north-west Himalayas, Shimla is the capital of Himachal Pradesh. Spread across 12 kms along a ridge that overlooks terraced hillsides and cultivations, Shimla is magnificently robed in dense forests of oak and pine, fur and rhododendron, and it is best to travel here on the slow train from Kalka. Shimla also is a convenient base for variety of adventure sports such as Skiing, Trekking, Fishing and Golfing etc.
Tourist Places in Shimla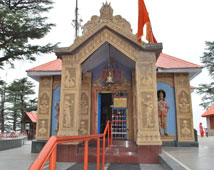 Jakhu Temple
No visit to the state capital Shimla is complete without visiting Jakhu Hill. This hill looms over Shimla town and is the geographical nucleus. The Hanuman temple at the top of Jakhu hill is the highest point in town.
Jeep Safari In Himachal Pradesh
By jeep, car or on motorcycle, one can explore the variety Himachal has to offer. By jeep, the Trans Himalayan tracts can steadily unfold their natural and man-made wonders.
Karyali Lake
In district Shimla,Karyali Lake lies on the northern face of the peak of Chhoti Shali.
Kotesvara Temple
The Kotesvara (also spelt as Kotesvar) temple is a magnificient structure dedicated to Shiva who is represented there in the form of 'Shivalinga'.
Shirigul Temple
One of the oldest and the most important temples of Shirigul are situated on the Chur Dhar Peak.
Tattapani
On the right banks of the river Satluj, is Tattapani famous for its hot sulphur springs. The place also has religious importance. These natural sulphur springs are invigorating and have curative values.
Viceregal Lodge
On the Observatory Hills is located Viceregal Lodge, which is also known as Rashtrapati Niwas. This magnificent building was the residence of the British Viceroy Lord Dufferin.
War Memorial
Just over 2-kms from Gandhi Chowk is Martyr's Memorial at Panjpulla (five bridges), which commemorates Ajit Singh, a supporter of Subhash Bose and the Indian national Army during World War II.
Woodville Palace Hotel
Backed by a hillside covered with trees of tall Himalayan cedar - the fabled 'deodar' - Woodville is a stately art-deco mansion.
Baisakhi
Held on first 'Baisakh'- the 13th April - Baisakhi is one of Himachal's most important festivals. Rooted in the rural agrarian tradition, it bids a final farewell to winter.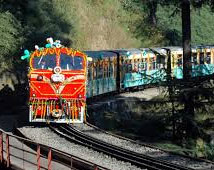 Dagshai
Another little cantonment at an altitude of 1,925m just 19-km from Kasauli, it is accessible by a link road, which diverts from Dhrampur. Dagshai is perched on a small hill and comprisse of a military public school and numerous military barracks.
Daranghati Sanctuary
Daranghati sanctuary located in the upper area of Shimla District, has undisturbed forest area with plenty of wildlife and was notified on 27th March 1974. The total covered area of this sanctuary is 16740 hectares.
Dharampur, Shimla
Just 15-km from Kasauli on the National Highway No.22, Dharampur is situated. Amidst the healthy air of the fragrant pines, Dharampur has one of the best hospitals in India for the cure of tuberculosis. It is also connected by Kalka-Shimla railway line.
Sabathu
A little cantonment town has a Gurkha fort built in the early years of the 19th century, situated at an altitude of 1,437m. This cantonment town quartered the British soldiers at the time of British Empire. A diversion road from Dharampur 15-km away leads to the Sabathu town.
Sankat Mochan
On Shimla-Kalka road is the famous "Lord Hanuman" temple. Situated at an altitude of 1,975m, it commands an excellent view of Shimla town.
Shimla State Museum
Housed in a charming colonial building, Inverarm, the State museum is located atop a hill that rises above the Chaura Maidan. A selection of Himachal's rich heritage is displayed over here.
Summer Fairs
A wide spectrum of national talent, a variety of programmes and a splendid setting make Shimla's Summer Festival a memorable event. Shimla also hosts the Red Cross Fair, sport tournaments, flower shows, a photographs and posters exhibition and a fashion show based on folk costumes.
Excursions of Shimla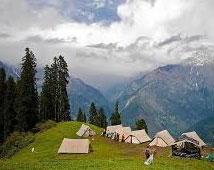 Chail (43Km.)
The former 'summer capital' of Patiala, Chail is 43-km from Shimla and dwelling in the midst of a lush green setting. At 2,250m, it has the world's highest cricket pitch and a polo ground, the old palace, now a hotel and the possibility of some angling are added attractions.
Kasauli (12Km.)
77-km from Shimla and 35-km from Kalka, at 1,927m, Kasauli is a quaint little town that seems to exist in a time wrap of an era that reminds one of the 19th century.
Kufri (19Km.)
Some great Hiking, some skiing, some beautiful scenes and a cool environment that's what Kufri is all about. It is famous for its trekking and hiking trails. Adventure-seeking travelers throng Kufri in winters to enjoy skiing and tobogganing along its snow-covered slopes.
Solan (48Km.)
Blessed with a pleasant climate all the year round, Solan is the district headquarters of Mashru, another city established by the British, is named after the Goddess, Soloni Devi, whose temple is located in the southern end of the town. Solan also remained capital of east, while Bhagat State for many years.
Barog
Once just a brief stopover on the Kalka-Shimla highway, Barog town has grown to be destination in itself. Surrounded by pine trees and oak trees, Barog is located in an idyllic setting. The pines of Barog are full of cavort and pleasantries. Barog's railway station, on the Kalka-Shimla, is one of the most picturesque stations, modelled in the Scottish-style.
Nahan (140Km.)
A well-laid out picturesque town of Nahan is situated on an isolated ridge in the Shiwalik hills, overlooking greenfields. Known for its cleanliness and dust free streets, saints and princes are linked with the origin of Nahan. The city was founded as a capital by Raja Karan Prakash in 1621.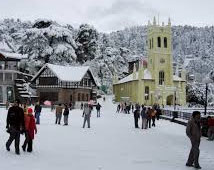 Narkanda (110Km.)
Narkanda, at 8,100 feet, 440-km from Delhi and is a two hours drive from Shimla. It is slightly higher than Shimla (7,400 feet) and the road linking the two runs almost near the crest of the mountain with a gradual ascent. One is constantly treated to a bird's-eye view of the different valleys as the road twists and turns from one spur to another. Especially breathtaking is the view of Narkanda from Fagu, a small village enroute.
Renuka Lake (45Km.)
With a circumference of 3214m, Renukaji is the largest natural lake in Himachal. Shaped like the profile of a reclining woman, this is regarded as the embodiment of the Goddess 'Renuka'.
Sarahan (44Km.)
Soaked in nature's beauty, Sarahan is flanked on the banks of the meandering Sutlej River. Located amidst Deodar forests, Sarahan was the ancient capital of the mighty Bushahr. It's a belief that Sarahan is the Shonitpur of old times, and this was the place, where Banasura once ruled.
Sirmour (142Km.)
The Sirmaur district has the Shivalik hills in the south and the northern parts are made up of the forests and ravines of the first and second belt of the Himalayan ranges. The places here have man made lakes as well as natural ones, temples, tea gardens and ruins of ancient and not so ancient forts. This district connects the hills of Uttaranchal to the hills of Himachal.
How to Reach Shimla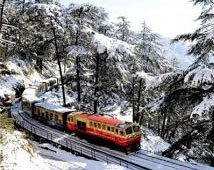 By Air
The Jubbarhatti airport is 23-km from Shimla and major domestic airlines cater their services from here to Shimla. One can catch direct flights from Delhi.
By Road
Roads connect the capital city of Himachal with other places in the state as well as other major towns and cities. There is regular bus service from Delhi and Chandigarh as well as ordinary; semi deluxe, deluxe and AC coaches for Shimla are available too. One can also cross over to Leh and Ladakh via Rohtang pass from here.
By Rail
Shimla has a narrow gauge railway line on which toy train runs from Kalka to Shimla. The train cruises its way through valleys and beautiful landscapes at a very slow pace making the journey very pleasant. From Kalka one can take trains to other parts of the country. The Toy train from Shimla is of two types - one is the normal multi coach train and the other is the single car train, which has a glass roof giving an enthralling experience during the journey.