Andhra Pradesh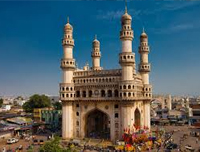 Known for its stunning cultural heritage and far-stretched emerald blankets, Andhra Pradesh tempts travellers from all parts of the world. Only mention of this Indian state conjures images of imposing monuments, overwhelming museums, complex havelis, mesmerising hill stations, uncharted natural caves and a lot more. The state has everything for everyone. Here you can find some of the most popular spiritual centres underlining the devotion of locals for their religion. ?
Places to Visit
Andhra Pradesh is home to some of the most beautiful cities housing an endless list of attractions. Start your holiday tour from Visakhapatnam, a city dotted with some unseen charms like Borra Caves, Araku Valley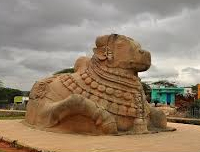 , Yarada Beach, Katiki Waterfalls and Kailasagiri Hill Park.Get drenched into seamless spirituality by visiting Tirupati, a hub for pilgrims. Here you will find some of the most popular temples, including Sri Venkateswara Temple, Sri Padmavathi Ammavari Temple, Sri Govindarajaswami Temple, ISKCON Tirupati and Kapila Theertham. Apart from these, one can also explore destinations like Vijayawada, Nellore, Chittoor, Anantapur and Kurnool which tell a lot about the history, traditions and cultures of Andhra Pradesh.
Wildlife
Andhra Pradesh is a blessing for you if you have keenness for wildlife. Here you will find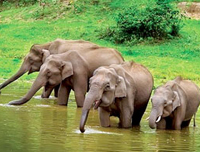 some of the most breathtaking wildlife attractions.Some of the most popular wildlife hubs of the state include Nagarjunsagar Srisailam Wildlife (largest tiger reserve in India), Indira Gandhi Zoological Park (housing endangered fauna), Kolleru Lake (largest fresh water lake in India), Pulicat Sanctuary (second largest brackish water Eco-System in India) and Sri Venkateswara Zoological Park (home to the Seshachalam hill ranges nestling the abode of Lord Venkateshwara). All these places let you interact with wildlife from a closer perspective.
Festivals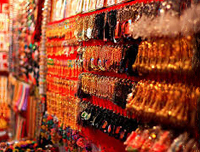 Andhra Pradesh remains drenched into endless number of festivals all year long. Most of the state's festivals are dedicated to its culture and tradition. Some of the top festivals of the state include Ugadi (Telegu New Year), Varalakshmi Vratham (dedicated to goddess Lakhshmi), Lumbini Festival (Buddhist Festival), Visakha Utsav (celebrating the local traditions and culture) and Rayalaseema Food and Dance Festival (biggest cultural event). Be a part of these festivities and experience the most vivid charms of Andhra Pradesh.
Food
Just like other parts of India, the locals of Andhra Pradesh are also devoted to their food. The state is rightly called as the "Food Bowl of the South" as it brings to you some of the most unique flavours which cannot be found anywhere else. If you are in Telangana, you must taste dishes like Karapu Annam (chilli rice), Rasam (South Indian soup) and Kakarakaya Pulusu (bitter gourd curry prepared with tamarind and spices). Hyderabad is another popular city of Andhra Pradesh which can make anyone fall for gluttony. Here you can savour heavenly dishes like Biryani (rice cooked in delectable spices), Boti Kabab (pieces of meat, marinated and cooked under intense heat, basted with butter or ghee), Khatti Dal (lentils prepared in curry leaves, mustard seeds, cumin, dry red chillies and garlic), and Bhuna Ghost (pan-fried meat with spices).
Shopping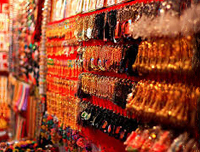 Shopping lovers can have a whale of a time in Andhra Pradesh. You can find everything here from traditional ornaments to handicrafts and wooden artefacts. Hyderabad is known for exclusive pearls and pearls from here are sold in all parts of India and outside. One can also buy some local fabrics from here, including Himroo, Ikkat and Uppada. Kalamkari is a known artwork found on textile of the state. It is influenced by Indian mythology and looks beautiful. Warangal district is known for selling beautiful paintings whereas Pembarti is renowned for its brass metalwork. Some of the main shopping places in Andhra Pradesh include Government Emporiums, Arts and Crafts Village, Basheerbagh, Himayatnagar, Begumpet, Somajiguda, Abids, Nampally, Punjagutta Mahatma Gandhi Road, Begum Bazaar and Laad Market (Hyderabad).
How to Reach
By Air: Travellers coming from international destination can land at the Begumpet Airport (also known as Hyderabad Airport). The state has many domestic airports like Vishakhapatnam Airport, Warangal Airport, Rajahmundry Airport, Vijaywada Airport, Tirupati Airport and Cuddapah Airport.
By Rail: The main railhead in Andhra Pradesh is Hyderabad, which has three well connected stations located at Secunderabad, Visakhapatnam and Vijaywada.
By Road: Andhra Pradesh shares land borders with Maharashtra in the northwest, Orissa and Madhya Pradesh in the north, Tamil Nadu in the south and Karnataka in the southeast. Thus, road travel is also a good option.