Uttaranchal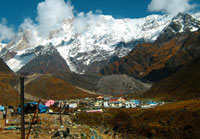 With captivating views of the Himalayas, Uttarakhand has been adorned with seamless sublime natural exquisiteness and tranquil spirituality. It has absolutely everything for everyone. The state is renowned with the name of Devbhumi or Land of the Gods as it has some of the holiest Hindu temples in India. Here you can push your limits with some of the most exciting adventure activities and here you can rejuvenate your senses at the most serene hill stations.?
Places to Visit
Uttarakhand has a diverse topography which makes it ideal for all types of travellers. Whether you are looking for a serene holiday in a hill station, or you want to explore the spiritual roots of India, whether you wish to indulge in the powers of yoga or challenge yourself with daring adventure activities- Uttarakhand will never disappoint you.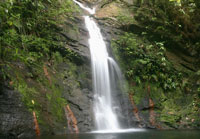 Dehradun, the capital of Uttarakhand, remains the most visited sojourn flaunting dramatic vistas of Himalayan ranges. Here you can explore Sahastradhara, Tiger Falls, Robber's Cave, Mindrolling Monastery, Tapkeshwar Temple, etc.The 'Lake District of India', Nainital remains highly popular among family vacationers. Nainital is blessed with the most beautiful views of nature with attractions like Naini Lake, Naina Peak, Tiffin Top, Kilbury Bird Sanctuary, etc. Mussoorie is another hill station of the state where travellers flock to escape summer heat. From here you can catch remarkable views of snow-covered Himalayan peaks. Have a whale of a time here with attractions like Kempty Falls, Lal Tibba, Happy Valley, Camel's Back Road and Gun Hill to name a few. A holiday to Uttarakhand remains unfulfilled without visiting Rishikesh, blending tranquillity, spirituality and adventure. It is the place where you can find some of the best yoga centres as well as indulge in exciting activities like trekking, rafting and camping. Haridwar is another popular spiritual land here which literally means 'Gateway to the Lord'. Hindu pilgrims visit here in thousands to experience seamless spirituality sprawling here with places like Har Ki Pauri, Chandi Devi Temple, Maya Devi Temple, Mansa Devi Temple, Vishnu Ghat, etc. Kedarnath, cuddled by Gahrwal Himalayan Ranges, remains the holiest place for the followers of Hinduism. ?It has numerous places to visit like Kedarnath Temple, Chorabari Tal, Vasuki Tal, Gauri Kund and Triyuginarayan Temple. The hot springs and Badrinath Temple of Badrinath are also known sites in Uttarakhand. Apart from these, travellers can also embrace the offerings of nature by visiting places like Ranikhet, Pithoragarh, Kausani and Almora.

Festivals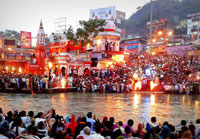 The colourful cultures of Uttarakhand reflect in the fairs and festivals celebrated here. Locals here celebrate their festivals with great fervour. International Yoga Festival of Rishikesh is attended by travellers from all over the world. The festival was introduced in Parmarth Niketan Ashram where meditative classes are organised to promote peaceful body, mind and soul.? Ganga Dussehra shows the spiritual roots of Uttarakhand when devotees take a dip into the holy waters of River Ganga to wash away their sins. The sight of thousands of clay lamps floating over pristine Ganga water is breathtaking. Nanda Devi Fair is another prominent fair of Uttarakhand in which devotees worship Goddess Nanda Devi. Visitors partaking in the festival can witness traditional dances and rituals underlining the beauty of Indian traditions. Ardh Kumbh Mela is the biggest and holiest fair which is organized in Haridwar. Millions of devotees from all corners of the world flock here to take a dip in the river Ganga while chanting holy chants and dancing on spiritual songs.?
Food
Food of Uttarakhand is simple yet delectable. Milk and milk based products are consumed extensively by locals here. Kafuli, made of Spinach and fenugreek leaves, is a nourishing dish of the state. Bhang Ki Chutney though surprises many, it tastes mouth-watering. Also, try Garhwal ka Fannah, a staple of Mussoorie. Phaanu, made by mixing lentils, is prepared mostly in the Garhwal region. Do not miss a chance to taste Kandalee Ka Saag prepared with a green leafy vegetable. If you have sweet tooth, then Jhangora Ki Kheer will surely make you fall for gluttony. It is prepared with goodness of milk and nuts. Also, try Gulgula, the simplest yet delicious dessert.
Shopping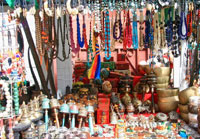 Uttarakhand houses some great markets good for buying handicrafts. The state is a great place to buy handmade accessories and gems, woodcrafts, woollen attires, and Gharwali paintings. The Tibetan market of Dehradun brims with travellers buying semi-precious stones, jewellery, trendy outfits and carpets. The state is also known for excellent quality of Basmati rice which can be purchased from Paltan bazaar of Dehradun. If you are visiting Haridwar then you can pick Rudraksh pendants, beaded jewellery, idols of Hindu deities.
How to Reach
By Air: Uttarakhand has two domestic airports - the Jolly Grant Airport in Dehradun and Pantnagar Airport near Nainital.
By Rail: Rail network in the state is diverse with major junctions in Haridwar, Dehradun, Rishikesh, Nainital, Kotdwar, Kathgodam, etc.
By Road: Travelling to the state by road is a great option as it is well connected with major state highways. Travellers can find both state run and private bus services to reach all parts of Uttarakhand.
Uttaranchal Cities Tour