Kerala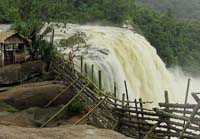 Rightly termed as the God's Own Country, Kerala rests on the tropical south-western coast of India. This impressive state evokes images of palm-fringed backwaters, pristine beaches, flourishing hill stations, soothing Ayurveda and spa, flamboyant cultures and much more. From the backwaters of Alleppey to Chinese fishing nets of Kochi, from wildlife lures of Thekkady to undulating hills of Munnar ? every part of Kerala has its own unique temptation.
Places to Visit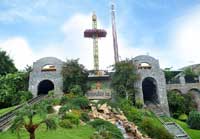 Alleppey is perhaps the right place to kick start your holidays in Kerala. Here rests the world renowned backwaters of Kerala which remain the most beautiful sight of nature. Cruise down the backwaters in traditional houseboats and savour enchanting nature all around while tasting typical Kerala cuisine. Some of the must visit places in Alleppey include Alleppey Beach, Karumadikkuttan, Marari Beach, Vembanad Lake, Mannarasala Temple, etc. Kochi is also a must visit city of Kerala which is also known as its cultural and economic capital. Here you can spot far stretched Chinese fishing nets and beautiful looking spice cultivations. Do visit Chottanikkara Temple, Vallarpadam Church, Edappally Church Complex, Wonderla Amusement Park, Kerala Folklore Museum, etc. when in Kochi.
Thekkady is known for being home to the Periyar Wildlife Sanctuary where you can catch sights of grand elephants roaming around freely. Other popular gems of Thekkady include Green Park Ayurvedic & Spices Plantation, Kadathanadan Kalari & Navarasa Kathakali, Deepa World Spice and Ayurvedic Garden, etc. Munnar is counted among the most beautiful places in Kerala. It is one of the highest producers of tea and flaunts impressive vistas of undulating hills, palm-fringed backwaters, cascading waterfalls, sunny beaches, etc. For a beach holiday in Kerala, nothing can be as rejuvenating as a stay in Kovalam where coconut trees line up along the coastline. Kovalam has gained extreme popularity for being the centre of Ayurvedic healing and thus, is visited by any tired souls. Some of the most beautiful places to visit in Kovalam include Lighthouse Beach, Kovalam Beach, Samudra Beach, Hawa Beach, etc.
Festivals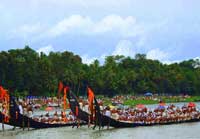 Festivals of Kerala are beautiful representations of its rich cultures and deeply rooted traditions. This is the land of diversity and every festival here stands out with its own celebrations. Kerala Boat Festivals like Champakulam Moolam Boat Race (Alappuzha), Nehru Trophy Boat Race (Alleppey), Payippad Jalotsavam (Payippad Lake) and Vallam Kali (Punnamada Lake) remain extremely popular. If you wish to witness the rich dance forms of the state, then be a part of the Theyyam Festival when 400 varieties of Theyyam performances are performed. Onam is another culturally rich festival of Kerala that fills the state with endless fervour.? It is celebrated for ten days full of games, music, dance and fireworks. Temple Festivals hold great importance in Kerala as they are mostly grand with lavish decors, adorned elephants, local music, dance and food. Some of the most popular temple festivals of Kerala are Thrissur, Sabarimala, Attukal, Padmanabhaswamy, Vaikom, etc. Vishu, marking the beginning of Malayali year, is an auspicious festival where locals perform puja and prepare an evening feast. Attukal Pongala Festival is another festival which sees the largest women gathering in the state. Women offer 'Pongala' to Attukal Devi during the festival and worship the goddess for 10 days.
Food
Food of Kerala is simple yet rich in flavours. It has a mix of Malabari, French, and Arabian influences with a touch of Kerala cultures. Kerala Cuisine includes both vegetarian and non-vegetarian dishes. Idiyappam with Curry is a must try dish made with rice and egg curry. Erissery (Pumpkin and Lentil Stew) is also cooked in every household. Puttu and Kadala Curry is loved by the locals as it is made using freshly plucked ripe bananas, grated coconut, and kadala curry. Appam with Ishtu is a staple element of the state made using fermented rice flour, coconut milk, coconut water and local ingredients. For a lavish treat, try Ela Sadya, the king of all vegetarian Kerala food. The meal is served in a traditional way on a banana leaf. Dosa with sambar has earned great popularity around the world but its origin lies in Kerala. Idli Sambar (fermented rice cakes with delicious curry of aromatic spices) makes a great breakfast dish. Apart from these, for the lovers of non vegetarian dishes, Nadan Kozhi Varuthathu (Spicy Chicken Fry), Kerala Style Prawn Curry and Karimeen Pollichathu (Fish) are ideal picks.
Shopping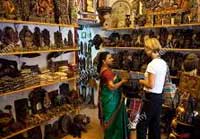 Kerala is a great state for buying authentic souvenirs. A shopping escapade in Kerala is all about buying Coir products, Coconut Shell Handicrafts, Elephant Figurines,? Nettipattom (ornament worn on the forehead of the elephant), Nilavilakku (Traditional Lamp), etc. Female travellers never miss a chance to buy Kasavu Sari from here. They look beautiful with gold and copper jari in the borders. Spices of Kerala are popular all over the world since ancient times. So, do not forget to carry some aromatic local spices. Mural Paintings of Kerala depict the state's mythology. They make great home decors and remain a must buy. One can also buy a variety of masks for decorating walls.
How to Reach
By Air : Kerala is well connected with rest of the world by air. It has three international airports, including Cochin International Airport, Kozhikode International Airport, and Thiruvananthapuram International Airport.
By Rail : The state has over 200 Railway Stations which have direct trains from Delhi, Mumbai, Chennai, Bangalore, Kolkata, etc.
By Road : Kerala can be accessed by road through National Highways 17, 47 and 49.
By Sea : From Kochi, frequent ships venture towards the Lakshadweep Islands.
Famous Kerala Cities