Cochin Tourism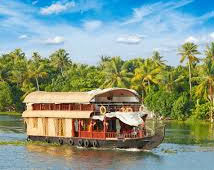 Cochin is located on the coast of the Arabian sea with Kottayam and Alappuzha districts on the south, Idukki on the east and Thrissur on the north. The commercial capital and the most cosmopolitan city of Kerala, Kochi, in Cochin, is also known as the Queen of the Arabian Sea.
With one of the finest natural harbours in the world, this was once a major centre of commerce and trade with the British, Arabs, Chinese, Portuguese, Dutch etc.
A leisurely walk through the city is the best way to discover historic Fort Kochi. An obscure fishing village that became the first European township in India, Kochi has an eventful and colourful history.
Its reputation as a seafaring commercial town was such that Nicolas Conti, an Italian traveller of the Middle Ages remarked: If China is where you make your money, then Kochi surely is the place to spend it.
The town was shaped by the Portuguese, the Dutch and later the British. The result of these cultural influences are seen in the many examples of Indo European architecture that still exist here.
Tourist Places in Cochin
St. Francis Church
Believed to be the oldest church built by the Europeans in India, it is the principal landmark in Fort Kochi. This historic church was constructed around the site of St. Bartholomews, a wooden structure erected by the five Portuguese priests who accompanied Alberqueque to Kochi in 1503. Hitherto confined only to royalty, the singular privilege of building a church with mortar and stone, roofed with tiles, was extended to the Franciscan priests by the Kochi Raja. The fact that the church was also the original burial site of Vasco da Gama before his remains were shipped to Lisbon in Portugal, has added to its historic value. Only his tombstone remains today.
Santa Cruz Basilica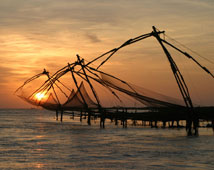 Situated close to the St. Francis Church, this Roman Catholic Cathedral, established in 1557, is a must-see for history buffs. In the 18th century, the British used it as a warehouse. But the church regained some of its lost glory after it was rebuilt in the early 20th century. The pastel interiors have ceilings that are adorned with some of the most exquisite paintings. Its carved wooden panels and pulpit are fine specimens of craftsmanship.
Chinese Fishing Nets
Fishing being an important commercial activity in Kochi, visitors can see large Chinese fishing nets standing out at the mouth of the Kochi harbour. It was the Chinese traders, hailing from the court of Kublai Khan who brought the fixed, cantilevered, Chinese fishing nets to the coast of Kerala. The nets are also strung along the backwaters between Kochi and Kottayam, and between Alappuzha and Kollam. The nets are used mainly during high tide.