Shirdi Sai Baba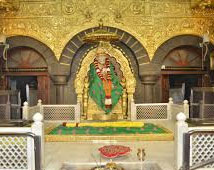 Sai Baba, one of the foremost saints of modern India, lived in the small village of Shirdi in the state of Maharashtra for sixty years. Due to his presence there even after his Samadhi, today the small village has transformed itself as a great spiritual center to people from all religions. Shri Sai Baba, inspite of his great spiritual stature, never publicized himself through discoursing, touring and preaching---unlike today's many 'so-called' saints. Rather, he discouraged unnecessary publicity. But still, his spiritual perfection is still drawing innumerable devotees to him from all over the world.
Sai Baba did never reveal his original name, time and place of birth, especially his religion and caste, and even the names of his parents. Through this, he has emerged as a solution to all the religious and communal differences that are destroying the world today. He preaches that God is Almighty and he has given all the souls on earth equal opportunity to reach him, whichever is the religion they belong to. 'Sai Baba' is the name given to him by his first devotee, Mahalsapathi - 'Sai' means 'Saint' and 'Baba' means 'Father'. The name is just an expression of love, reverence and devotion.
Sai Baba never discriminated between the rich and the poor. He was equally indifferent to honour or dishonour shown to him by the people. He used to utter the name of 'Allah' frequently. All religious scriptures spell that any spiritual quest does not fulfill without a proper guide or Sadguru. Shri Sai Baba has led many seekers as a Sadguru towards spiritual progress. These seekers are either drawn to him by himself or by other saints and deities.
Location
Shirdi town is situated in Rahata Tahasil in Ahmednagar District of Maharashtra State (India). It is located at 19o45' North Latitude and 74o25' East Longitude. It falls on Ahmednagar-Manmad State Highway No.10 at 83 Km. from Ahmednagar, and 15 Km. from Kopargaon. It (the Ahmednagar -Manmad road) was a very busy route in the old times. It is located at 185 Km. to the East from Western Seashore line.
Teachings of Sai Baba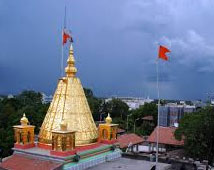 All religions preach that God is Almighty and He is omnipresent. The omnipresence of God is clearly manifested in the various experiences that Sai Baba has given to his devotees--- anywhere, anytime. He once said, "He who thinks that I am only at Shirdi has never known me. I am omnipresent----anywhere, everywhere, all the time and in all creation. I am at Shirdi and everywhere. I am formless and everywhere! I am everything and beyond. All the Universe is in Me. Wherever you see, whatever you see, I am there." He not only preached this, but he demonstrated the truth through his deeds (Leelas).
The omnipresence of Shri Sai Baba demonstrated that he knows everything that has happened, happening and will happen in the lives of all creatures in the world. In addition to this, he also demonstrated that omnipresence of God is also manifested in the non-living things. This provides an effective check on the evil propensities of devotees. But still, he always said, "I am the slave of God"; "Allah Malik".
Sai Baba promises that he will lead his devotees both materially and spiritually if they simply remember his omnipresence always----in everything they do and in everybody. Study of religious and spiritual scriptures, life histories of saints, remembering the his holy deeds (leelas), coupled with meditation and prayer helps the devotees to do so. All the mystics of the world and all saints have declared that the immediate presence of a realized sage is one of the most potent forces in the spiritual advancement of Sadhak or the seeker. Contact with them induces in us inner peace and purity, restores our sense of values, wipes out illusory allurements of the senses and turns us towards spirit with renewed vigour. Besides, when approached in a proper manner, they can enable us to realize that all the saints are One in essence.
Pilgrimage Attractions
Samadhi Mandir
Samadhi Mandir of Shri Sai Baba was actually owned by a millionaire from Nagpur, a famous Sai devotee Shreemant Gopalrao. Gopalrao wanted to keep an idol of Murlidhar here. However, Baba himself became Murlidhar and the Mandir became the Samadhi Mandir of Baba.
The Mandir is built with stones and Baba's Samadhi is built with white marble stones. A railing is built in marble around the Samadhi and is full of ornamental decorations. In front of the Samadhi are two silver pillars full of decorative designs. Just behind the Samadhi is Sai Baba's marvelous statue made of Italian marble which shows him seated on a throne. This idol was made by late Balaji Vasant.
Dwarkamai
Shri Sai Baba came to Shridhi with a marriage procession. He stayed at Dwarkamai till the very end of his life. Dwarkamai is situated on the right side of the entrance of Samadhi Mandir. Here he solved problems of the people, cured their sickness and worries. Before Baba's arrival in Shridhi, Dwarkamai was an old mosque in a dilapidated condition. Baba turned it into Dwarkamai and proved that God is one.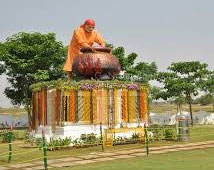 Gurusthan
Sai Baba first came to Shridhi in the form of Bal Yogi - a child ascetic. He was first spotted seated under a Neem tree. This place came to be known as Gurusthan. The renovation of Gurusthan was made on 30th September, 1941. The present temple was built after this period. There is a small shrine in Gurusthan. On a elevated platform of this shrine a big portrait of Baba is placed. On the side is a marble statue of Baba. In front of the portrait is a Shivling and the Nandi. Photos of twelve Jyotirlingas are kept in the temple. The branches of the Neem tree have come out through the roof of the temple.
Lendi Baug
At some distance from Gurusthan there is the Lendi Baug. This Baug was made and watered daily by Baba himself. It got its name from a Nalla (a drain) which used to previously flow there. Baba used to come here every morning and afternoon and take rest under a Neem tree. Baba dug a pit, 2 feet deep, under the Neem tree and kept a Deep lit in that pit. One octangular Deepgriha called Nanda Deep has been built in marble stone in memory of this place. It constantly burns in a glass box. On one side of the Deepgriha is a Peepal tree and on the other side is a Neem tree.
Khandoba Mandir
This temple is situated on the main road. In front of this temple Baba was welcomed by Poojari Mhalsapati, of this temple, saying "Aao Sai", when Baba stepped in Shridi. In this temple there are icons of Khandoba, Banai and Mhalsai.