Anjuna, Goa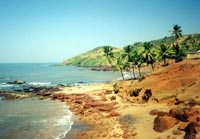 Anjuna is a tiny but happening village in Goa. The village still embraces Portuguese culture which can be seen in all the structures standing here. ?Anjuna is also known for its trance parties which lure trance parties lovers from far and wide to this place. The best season to witness pulsating party scenes here is October ? April when the weather remains pleasant enough to drink, dance and dazzle.
Anjuna beach of the village is counted among the top beaches of Goa. With a backdrop of beautiful hills and azure water of Arabian Sea, the beach looks fascinating. An array of red laterite rocks add to the beauty of the beach and makes it stand out from all other Goan beaches. Nature buffs instantly fall in love with Anjuna beach due to abundance of nature sprawling here. The beach hosts the most exciting full moon parties during the New Year and Christmas when you can drink and dance till wee hours. Do not miss shopping at the flea market dotted around the beach to buy some junk jewellery made out of shells.
Chapora Fort, situated on the Anjuna Beach, catches the attention of all. This famous fort of Goa was built by Adil Shah. The main purpose of the fort was to keep an eye on Hindu raiders. Around 1617, the fort was reconstructed by the Portuguese with underground tunnels to escape during war times. The fort has deep red colour which adds to the beauty of the Anjuna Beach.
Also, do not miss a chance to visit the St. Michael's Church which is one of the oldest churches of Goa. Built in 1613, the church flaunts Portuguese style of architecture. The church remains crowded during the feast of St. Michael which is celebrated in the month of September.
A trip to Anjuna remains unfulfilled without exploring the Anjuna's weekly Wednesday flea market. This is perhaps the best way to enjoy the cultures of Goa. The market floods with merchandise brought here from all over the country. Be ready to be greeted by smiling vendors wearing colourful Goan attires. The market often surprises visitors as here many unique artefacts and jewellery items are also sold. Do not miss tasting some of the local food items here which will give you a rewarding experience.