Bambolim, Goa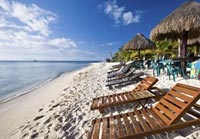 Bambolim is a charming town in North Goa. The town looks picture perfect with ample of Mother Nature. Travellers visit here to enjoy its laid back aura which makes it an ideal location to unwind. The town attracts family vacationers in large number as it houses numerous attractions to explore.
Bambolim Beach remains the most fascinating lure for travellers visiting Bambolim. The beach lets you relax under jovial sun. Adventure lovers can partake in numerous sports activities here, including jet skiing, scuba diving, beach volleyball and parasailing. The coastline of Bambolim Beach is nestling with colourful shacks offering you ample space to relax. Clubs here serve delectable sea food and drinks which can make anyone fall for gluttony. ?Bambolim also houses the Siridao Beach which usually stays away from crowds. This rocky sandy beach is ideal to collect pearl and oyster shells. There are several caves around the beach which add to its beauty. Serenity seekers can also visit the very beautiful Vainguinim Beach which is around 5.8 km from Bambolim. Its coastline is nestling with palm trees and its clean turquoise water grabs your heart instantly. Here you can also indulge in activities like jet skiing, scuba diving, wind surfing and parasailing.
Bambolim also houses numerous historical structures which let you turn some crucial pages of history. Raj Bhavan, the Official Residence of the Governor of Goa, is a must visit place in this town. It stands on the confluence of Mandovi and Zuari rivers. During Portuguese rule it was known with the name of Palacio do Cabo. However, when Goa became free, it was converted into the official residence of the governor. Tourists must also explore the museum of Raj Bhavan with special permission. Also, visit British Cemetery situated near Raj Bhavan. This Cemetery was built 1802 and has 56 gravestones. It is said that it was constructed during the Napoleonic Wars and it served as a British garrison of the military.