Amber Fort, Rajasthan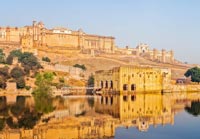 Amber Fort beautifully represents the glorified history of Rajasthan, the royal Indian state. The town of Amer was initially constructed by Meenas and later came under the rule of Raja Man Singh I. The fort features distinct Hindu style elements. Its grand ramparts and numerous gates and paved paths ooze royalty. The fort has been categorized into six sections each having its own gate and courtyard. The Suraj Pol (Sun Gate) is the main entry gate leading to first main courtyard. This is the place where victory parades were conducted by armies.
The most popular sections of the fort include:
First courtyard
Named as Jalebi Chowk, the first courtyard of Amber Fort guides you to the main palace grounds. Here lies a Sila Devi temple, a worship place for the Rajput Maharajas. Ganesh Pol, named after the Hindu god Lord Ganesh, leads to the private palaces of the Maharajas. This three-level structure exhibits impressive frescoes which look breathtaking.
Second courtyard
The second courtyard houses the Diwan-i-Aam which is the Public Audience Hall. This is basically a lifted platform with 27 colonnades. Here the king used to receive petitions from the public.
Third courtyard
The third courtyard houses the private quarters of the Maharaja and his family members. You enter here through the Ganesh Pol. It has two buildings divided by beautiful looking Mughal Gardens. On the left lies the Jai Mandir embellished delicately with glass inlaid panels and colourful mirrored ceilings. The other building is Sukh Niwas which can be accessed through a sandalwood door.
Palace of Man Singh I
The Palace of Man Singh I is the oldest part of Amber Fort. It took 25 years to build this palace. The central courtyard of the palace houses the pillared baradari or pavilion where rooms have been beautified with impressive frescoes and coloured tiles.
Fourth courtyard
The fourth courtyard is the place where royal women lived. It houses numerous rooms where the king used to visit to meet the queen of his choice.
How to Reach
By Air: The closest airport to Amber Fort is Jaipur International Airport from where taxi can be hired to reach the fort.
By Rail: Jaipur railway station is 12 km from Amber Fort.
By Road: Buses are available to reach the fort from Jaipur city. Self drive option can also be opted.