Fatehpur Sikri, Uttar Pradesh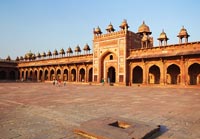 Listed among the World Heritage Sites, Fatehpur Sikri is located in the Agra District of Uttar Pradesh. Emperor Akbar founded Fatehpur Sikri in 1571 as the capital of Mughal Empire. This is a crucial specimen of the Mughal dynasty which lures many history lovers from all over the world.? Akbar raised numerous majestic buildings in Fatehpur Sikri. Some of the most popular buildings of Fatehpur Sikri which grab the attention of every visitor here include:
Buland Darwaza
It remains a major attraction of Fatehpur Sikri standing at a height of 55 meters. This is the largest gateway in the world which was raised to celebrate the success of Emperor Akbar after he conquered Gujarat.
Diwan-i-Khas
Known with the name of Ekstambha Prasada, Diwan-i-Khas was once the regal chamber of Emperor Akbar. Its Persian style of architecture and fine sculptures make it stand out.? It beautifully flaunts the richness of the bygone era and remains a must visit part of Fatehpur Sikri.
Jama Masjid
The Jama Mosque remains one of the earliest buildings constructed in the complex. A unique feature about this Mosque is the row of chhatri over the sanctuary. It features a marble inlay in unique geometric patterns which looks astonishing.
Tomb of Salim Chishti
This tomb of the Sufi saint, Salim Chisti is a part of the Jama Masjid's sahn, courtyard. It remains one of the finest examples of Mughal architecture raised during the years 1580 and 1581. The tomb exhibits delicate carvings and lures hundreds of pilgrims every year.
Other major places to visit in Fatehpur Sikri include Palace of Jodha Bai, Birbal Bhawan, Diwan-i-Aam and Karawan Serai.
How to Reach:
By Air: Kheria Airport in Agra is the nearest airport to reach Fatehpur Sikri.
By Rail: Agra Cantt in Agra is the nearest railway station from Fatehpur Sikri.
By Road: The road network to Fatehpur Sikri is well-maintained and thus, one can also plan road travel.