Rambagh Palace, Jaipur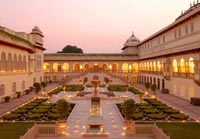 The Rambagh Palace takes you deep into the history of royal Rajasthan. This palace in Jaipur was constructed in 1835. The fort witnesses rules of many kings and thus, remains a majestic caretaker of history. Today, it has been transformed into a luxury heritage hotel by the Taj group which offers guests a premium stay experience at its 78 gorgeously restored grand luxury rooms and suites.
The palace is still known for its elaborate splendour which can be seen in its hand-carved marble 'jalis' sandstone balustrades, stunning cupolas and beautifully designed Mughal Gardens. A stay at Rambagh Palace is like a dream that makes you feel like a king.
Get ready to fall for gluttony at the palace's Suvarna Mahal which was a ballroom in the past. Its 18th-century French style architecture along with grand crystal chandeliers are enough to make your jaws drop. Enjoy a variety of cuisines from all over the world here.? The Rajput Room here is an all-day-dining restaurant and for some peaceful moments one can visit the Verandah Caf?. For some Mediterranean delights, check out the lounge bar here.
The Rambagh Palace pampers you the way you want to be. Get spoiled for choices at the Jiva Grande Spa of the palace where you can pick from a range of signature treatments available. These treatments not only soothe your body but also calm your mind.
The Rambagh Palace has become a popular option among those seeking a life size destination wedding. The palace has a beautiful selection of indoor and outdoor venues to choose from to solemnize heaven like weddings.
How to Reach
By Air: The Jaipur airport is a major airport connecting the city with rest of the country and some international destinations like Kuala Lumpur, Sharjah and Dubai.
By Rail: Jaipur railway station receives regular trains from all parts of India.
By Road: A road trip to Jaipur promises great fun.