City Palace, Udaipur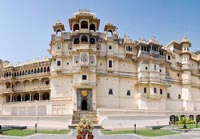 City Palace of Udaipur is a perfect exemplar of the richness of India in the past. It underlines the fact that India was once known with the name of Golden Sparrow. The fort was raised over a period of nearly 400 years. Its construction started in 1553 by Maharana Udai Singh II. Later many rulers contributed to its present day grandeur.
This unique palace of Rajasthan stands atop a hill, offering a bird's eye view of the city around it. It flaunts a mix of Rajasthani and Mughal architectural styles. Overlooking Lake Pichola, City Palace houses a series of palaces.? The interior of the palace has been adorned with fine mirror-work, marble-work, murals, superb wall paintings, rich silver-work, etc. Numerous gateways let you enter into the palace. Bara Pol is the main entry gate leading to the first courtyard.
Some of the most spectacular palaces here include:
Amar Vilas
The uppermost court inside City Palace, Amar Vilas lets you enter the Badi Mahal. Its Mughal style architecture pleases all visitors and the hanging gardens here look astonishing.
Badi Mahal
Badi Mahal is a Garden Palace placed on a 27 metres natural rock platform. There is also an adjoining hall where you can see miniature paintings belonging to 18th and 19th centuries, wall paintings of Jag Mandir and an elephant fight scene.
Durbar hall
Built in 1909, Durbar hall is the place where official functions and meetings were conducted during ancient times. It features galleries from where royal women used to enjoy the Durbar proceedings. Its interiors feature large chandeliers, and many exhibits like weapons and portraits.
Other must see wonders of City Palace include Bhim Vilas, Chini Chitrashala, Choti Chitrashali, Fateprakash Palace, Mor Chowk, Manak Mahal, etc.
How to Reach
By Air:? Maharana Pratap Airport is the closest airport to Udaipur. The airport is well connected to rest of the country.
By Rail: Udaipur railway station connects to all major Indian cities like Jaipur, Delhi, Kolkata, Indore, Mumbai, etc.
By Road: National Highway 8 links Udaipur to Delhi and Mumbai.