Chittorgarh Fort, Rajasthan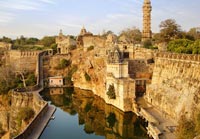 The Chittor Fort or Chittorgarh Fort remains one of the biggest forts in India. This fort in Rajasthan was once the capital of Mewar and holds numerous tales from the legendary land of Rajasthan. It sits atop a 180 m high hill and sprawls over an area of 280 ha.
The fort beautifully underlines Rajputana bravery, pride and fervour. Numerous stories of love and sacrifice are buried in its walls.? This bastion faced numerous brutal attacks in the past. However, it still stands strong with all its pride. It is also renowned with the name of water fort as it once had 84 water bodies inside, out of which only 22 exist till date.? The fort has seven gates, including the Padan Pol, Bhairon Pol, Hanuman Pol, Ganesh Pol, Jodla Pol, Laxman Pol and Ram Pol. All these gates flaunt huge stone structures to protect the fort from enemy attacks.
Some of the most spectacular attractions of the Chittor Fort include:
Vijay Stambha
The Vijay Stambha symbolizes victory over Mahmud Shah I Khalji who was the Sultan of Malwa in 1440 AD. It rises to 37.2 metres and features nine stories which can be accessed by taking a narrow circular staircase of 157 steps. The Stamba is illuminated during evening hours and looks beautiful.
Kirti Stambha
Kirti Stambha, a 22-metre-high tower, exhibits beautiful Jain sculptures. The tower is dedicated to Adinath, the first Jain tirthankar.
Rana Kumbha Palace
Rana Kumbha palace is the oldest monument of the palace. It houses elephant and horse stables apart from a temple dedicated to Lord Shiva. This was the palace where Maharana Udai Singh, the founder of Udaipur, was born.
Fateh Prakash Palace
Located in close proximity to Rana Khumba palace, Fateh Prakash Palace was constructed by Rana Fateh Singh. The city centre has numerous modern houses apart from a tiny museum and a school where local children study.
Padmini's Palace
Padmini's Palace is a pearly white structure located in the southern part of the fort. The palace is nestling with chhatris (pavilions) and a water moat. The architecture of the palace is breathtaking and underlines the marvellous history of India.
How to Reach
By Air: The closest airport to Chittorgarh is the Dabok Airport, around 90 kilometres from the city.
By Rail: Railway stations like Chittaurgarh (COR) and Chanderiya (CNA) receive regular trains from other major cities of India.
By Road: Chittorgarh is well connected to other Indian cities by road.