Mehrangarh Fort, Jodhpur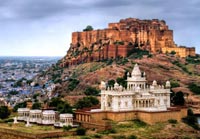 Mehrangarh Fort is a larger than life fort beautifying the skyline of Jodhpur city located in the Indian state of Rajasthan. Built around 1460 by Rao Jodha, the fort impresses all with its majestic built raised over a height of 410 feet. Its gigantic fortified walls are still intact and share stories of its tough past. ?A winding road takes you to this fort. As you reach here, you see numerous palaces dotted inside it, beautified with intricate carvings and expansive courtyards. The fort has seven grand gates. Each gate has a story behind it and looks impressive due to its unique built representing the richness of ancient Indian architecture. Mehrangarh fort also houses a museum adorned with numerous galleries showcasing Elephant's howdahs, Palanquins, Daulat Khana, Armoury, Paintings, cradles, turban, wood craft, etc. Do not miss a chance to enjoy cultural dance and music performances by local musicians during evening hours here. The fort also gives you opportunities to delve deeper into the history by narrating some beautiful stories of the past.
Some of the major attractions of the Fort include:
Sheesh Mahal
Sheesh Mahal or the Hall of Mirrors has been beautifully adorned with uncountable mirrors. It was once the bed chamber of Maharaja Ajit Singh. It features intricately designed walls and European glass chandelier adding to the beauty of the ceiling.
Phul Mahal
The Palace of Flowers is a grand ornamented reception room built by Abhay Singh during 18th century. Its interiors feature elaborate jaali work and balustered and fluted columns. The paintings on the walls are impressive. This portion of the fort is less accessible for visitors.
Takhat Vilas
This splendid looking room was the private apartment of Takhat Singh. Its ceiling stands on great wooden beams and thus, it doesn't have any supporting columns. All parts of the room including its floor are painted. Its windows look beautiful with coloured glass panes.
Moti Mahal
Also known with the name of The Palace of Pearls, Moti Mahal shines like a real pearl due to the quality of the lime plaster used here. As the sun rays fall on its gold filigree ceiling, vivid colours of the stained glass windows reflect on it.
The Nagnecha Mataji Temple
Rao Jodha was a worshipper of Nagnecha Mataji. He brought her idol to the fort and installed it here. The goddess was worshipped by the locals of Jodhpur as well and the legacy still continues. During the festival of Dussehra, Mehrangarh fort remains brimming with pilgrims seeking blessings of the goddess.
Rao Jodha Desert Rock Park
Sprawling over an area of 72 hectares, Rao Jodha Desert Rock Park contains ecologically restored desert. It was set up in 2006 to preserve the natural ecology of the area. It is an ideal escape for nature devotees seeking some moments of mental solace.
How to Reach:
By Air: Jodhpur has its own domestic airport which is just 8.5 km from the fort.
By Rail: Jodhpur railway station is well connected to all other major Indian cities.
By Road: The city has a great road network. Numerous private and state run buses link Jodhpur with other parts of the country.