Maharaja's Palace, Mysore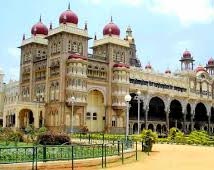 Maharaja's Palace or Mysore Palace is a historical palace and a royal residence at Mysore in Karnataka. The palace is known for being residence of the Wadiyar dynasty and also the seat of the Kingdom of Mysore. The palace is located in the very heart of Mysore. Millions of travellers visit here every year to explore the majestic appeal of this ancient palace which oozes luxury in every way. It has been built in Indo-Saracenic style of architecture. It features two durbar halls, many colossal courtyards, ancient buildings and beautifully laid gardens.
The original old palace was destroyed due to fire during Dasara festivities in 1896. Thereafter, Maharaja Krishnaraja Wodeyar IV and his mother took up the charge of its reconstruction. The palace was again expanded in around 1940 during the rule of Maharaja Jayachamarajendra Wadiyar.
Due to the ongoing construction of the palace in the history, one can see a blend of Hindu, Mughal, Rajput, and Gothic styles in its architecture. This three-story stone structure is surrounded by a large garden which adds to its beauty. There are three gates to enter the palace, including the East Gate, the South Entrance and the West Entrance.
Some of the most impressive features of the Maharaja's Palace include:
The Ambavilasa
This ancient hall for private audiences has an impressive elegantly carved rosewood doorway. Some of the most beautiful aspects of the Ambavilasa include ornately gilded columns, stained glass ceilings, ornamental steel grills, and chandeliers with superb floral motifs.
Doll's Pavilion
This is a museum of traditional dolls belonging to the nineteenth and early twentieth centuries. Here you can also explore an impressive collection of Indian and European sculpture and ceremonial objects such as a wooden elephant howdah adorned with 84 kilograms of gold.
The Kalyana Mantapa
This is a grand octagonal-shaped pavilion beautified with vibrant stained glass ceiling. The floor of the room impresses all with peacock mosaic adorned with tiles brought from England. There are also oil paintings depicting royal procession and Dasara celebrations.
Temples
Maharaja's Palace houses twelve major Hindu temples belonging to the 14th century. Some of the most popular ones include Lakshmiramana Temple, Someshvara Temple, Shwetha Varahaswamy Temple, Sri Prasanna Krishna Swami Temple, Sri Bhuvaneshwari Temple, etc.
How to Reach:
By Air: The nearest major airport to Mysore is the new Bangalore International Airport.
By Rail: Many express trains run between Bangalore and Mysore. Bangalore also enjoys connectivity with other parts of India.
By Road: ?Road travel is recommended due to good conditions of the roads here.