Junagarh Fort, Bikaner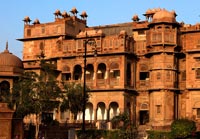 Junagarh Fort of Bikaner is a priceless gift of history. Originally it was named Chintamani. Thereafter, in the early 20th century it was renamed as Junagarh or "Old Fort". Junagarh Fort looks splendid due to its setting in the middle of the Thar Desert. Junagarh Fort is home to many palaces and temples made of red sandstone. The palaces have been beautified with life size courtyards, intricately designed balconies, unique kiosks and splendid windows. Today, these palaces act as window into the history of the place that lets you enjoy numerous stories. The Karan Mahal was constructed by Karan Singh in c.1680 after defeating the Mughal Emperor Aurangzeb. This superb palace features splendid gardens and unmatched interiors. Phool Mahal remains the oldest part of the palace raised by king Raja Rai Singh of Bikaner. Anup Mahal, a multi-storey structure, served as the administrative headquarters of the kingdom.
The fort has seven gates but the main entry gate was Karan Pol or Parole. At present, tourists enter from the Suraj Pol flaunting a beautiful yellow sandstone colour which makes it stand out as other gates are in red colour. The doors have been fortified with iron spikes and studs to fight all kinds of enemy attacks. Other gates of Junagarh Fort include Karan Pol, Daulat Pol, Chand Pol, etc.
Do not miss visiting the Har Mandir temple which was the private temple of the royal family. The temple is known for being the ground where the Hindu festival of Dussera and Gangaur were celebrated by the rulers.
Other than this, the fort also houses a museum displaying numerous wonders of history, including Sanskrit and Persian manuscripts, paintings, jewels, royal costumes, portrait galleries, etc.
How to Reach
By Air:? The nearest airport to the fort is Jodhpur Airport from where taxis can be hired to reach Bikaner.
By Rail: Bikaner is well connected to other major Indian cities by train.
By Road: Bikaner has a good road network and thus, one can find buses as well as taxi services to reach the fort.