Warangal Fort, Andhra Pradesh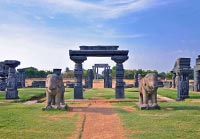 Warangal Fort is located in Warangal district of Telangana. Built in the 13th century, this is known for being one of the oldest forts of South India. Every year thousands of history enthusiasts visit here to know about the legendary history of this fort and its unique architecture. The fort was destructed by the invaders and you can see only ruins here today. The fort houses imposing stone gateways standing to a height of around 30 feet. The gateways have been beautified with carvings of Lord Vishnu.
The Warangal Fort was constructed during the rule of king Ganapatideva. Here you can see some ancient temples and sculptures belonging to the prehistoric Kakatiya period. In total the fort houses 45 towers. The temple of Mother Earth called 'Swayambhudevi Alayam remains the centre of attraction here. Visitors get fascinated by exquisite carvings beautifying the fort.
The central part of the fort is the archaeological zone where the ruins of a great Shiva temple exist. There are only freestanding "entrance portals" here with extensive intricate carvings. As these carvings do not show any religious figures, they were not destructed by the Muslim invaders.
How to Reach
By Air: Nearest airport to Warangal is Rajiv Gandhi International Airport in Hyderabad.
By Rail: Warangal Junction is linked to all parts of India.
By Road: One can easily find regular buses to Warangal from all other major Indian cities.